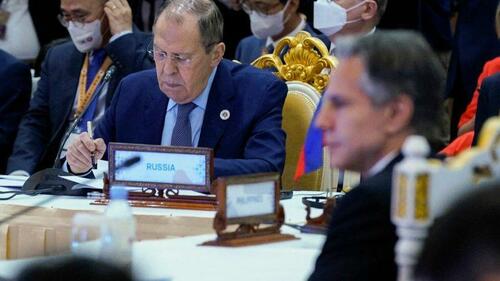 Blinken & Lavrov Meet For First Time Since Ukraine War At G20
After last month President Putin declared Russia has suspended participation in the New START nuclear arms control treaty, and at a moment the Kremlin is accusing Washington of aiding cross-border sabotage and drone attacks on its soil, proof has emerged that the two superpower rivals are still talking at the highest levels. 
"Secretary of State Antony Blinken spoke briefly with Russian Foreign Minister Sergey Lavrov on Thursday during the Group of 20 (G-20) conference about the war in Ukraine and the New START nuclear treaty," The Associated Press reports Thursday.
The two top diplomats spoke for about 10 minutes on the sidelines of the summit, which is the first such in-person meeting since the war's start, coming shortly after the Ukraine war has entered its second year. Additionally the G20 reportedly ended without finding consensus on Ukraine, with India's foreign minister citing "divergences" among countries represented. 
Blinken referenced the talk with Lavrov at a press conference afterward, a summary of which said:
At a news conference, Blinken said he told Lavrov that the U.S. would continue to support Ukraine for as long as it takes and would push for the war to end through diplomatic terms that Kyiv agrees to.
"End this war of aggression, engage in meaningful diplomacy that can produce a just and durable peace," Blinken said he had told Lavrov. But, he noted that "President Putin, has demonstrated zero interest in engaging, saying there is nothing to even talk about until Ukraine accepts the new territorial reality."
Blinken said he also urged Russia to reverse "its irresponsible decision and return to" participation in the New START nuclear treaty.
"Mutual compliance is in the interest of both our countries," Blinken said he told Lavrov, adding that the United States was always willing to discuss arms control with Russia no matter what irritants there are in the bilateral relationship.
Also very notable is that Blinken indicated he put forward a "serious proposal" for the release of detained ex-Marine and US citizen Paul Whelan. He stressed that "Russia should take it."
Lavrov didn't specifically respond to Blinken's description of the meeting, and it's unclear how he presented the Russian position. But a statement by Lavrov did emphasize that G20 was a failure in terms of addressing the Ukraine crisis: 
"Unfortunately, the declaration on behalf of all G20 ministers could not be approved. Our Western colleagues, just as they did a year ago under the Indonesian presidency, tried by all means, by hook or by crook, using various rhetorical statements, to bring to the fore the situation around Ukraine, which they, of course, present under the sauce of the so-called Russian aggression," he said.
"Nothing good has come of this. The discussion, at least in some of the speeches by Western delegations, especially the G7 countries, has boiled down to emotional statements. And all of this, of course, was done at the expense of a normal discussion of the problems that really stand on the G20 agenda."
As for India, Prime Minister Narendra Modi addressed the meeting in New Delhi on Thursday, saying "The experience of the last few years – financial crisis, climate change, pandemic, terrorism and wars – clearly shows that global governance has failed." He added: "We should not allow issues that we cannot resolve together to come in the way of those we can."
Thus Modi seemed to agree with Russia's negative assessment concluding that G20 leaders fell far short of producing any meaningful resolutions on Ukraine. 
Tyler Durden
Thu, 03/02/2023 – 20:00
ZeroHedge News
Donate To Address
Donate Via Wallets
Bitcoin
Ethereum
Dogecoin
Monero
Donate Bitcoin to The Bitstream
Scan the QR code or copy the address below into your wallet to send some Bitcoin to The Bitstream
Tag/Note:-
Send Bitcoin (BTC)
Donate Ethereum to The Bitstream
Scan the QR code or copy the address below into your wallet to send some Ethereum to The Bitstream
Tag/Note:-
Send Ethereum (ETH)
Donate Dogecoin to The Bitstream
Scan the QR code or copy the address below into your wallet to send some Dogecoin to The Bitstream
Tag/Note:-
Send Dogecoin (DOGE)
Donate Monero to The Bitstream
Scan the QR code or copy the address below into your wallet to send some Monero to The Bitstream
Tag/Note:-
Send Monero (XMR)
Please Add coin wallet address in plugin settings panel