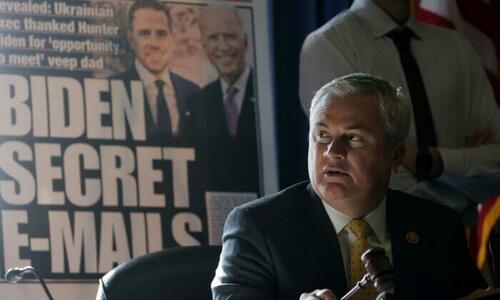 Rep. Comer Says He's Delaying Hunter Biden Subpoena To Ensure Win If It Goes To Court
Authored by Ryan Morgan via The Epoch Times (emphasis ours),
President Joe Biden's son, Hunter Biden, has ignored a House Oversight Committee request for records of his business activities and potential access to classified information, but Oversight Committee Chairman James Comer (R-Ky.) is holding off on a subpoena for now.
With a poster of a New York Post front page story about Hunter Biden's emails on display, Committee Chairman Rep. James Comer (R-Ky.) announces a recess because of a power outage during a hearing before the House Oversight and Accountability Committee at Rayburn House Office Building on Capitol Hill in Washington on Feb. 8, 2023. (Alex Wong/Getty Images)
On Feb. 8, Comer sent Hunter Biden a letter (pdf) requesting that he turn over a variety of records, including any communications with his father about his various foreign business activities and associates and any classified documents he may possess. Comer gave Hunter Biden a Feb. 22 deadline to respond to the information request.
Hunter Biden's lawyer, Abbe Lowell, outright rejected the information request in a Feb. 9 response letter shared with the Washington Post.
Despite Lowell's rejection letter and the missed deadline, Comer has yet to follow up his information request with a more forceful request through a legal subpoena. In comments with Punchbowl News, which were published on Wednesday, Comer said he is holding back on a subpoena for now, in order to ensure better odds that the subpoena will succeed if Hunter Biden's legal team challenges the legal demand in court.
"It's not just issuing a subpoena, it's about winning," Comer said.
"We give people plenty of time. When you do subpoenas, if you want to win in court, you have to show good faith effort that you tried to get the information. So we're checking some boxes," Comer continued.
"When we do subpoena, if we have to, then we're going to win the subpoenas in court," Comer added.
Biden's Lawyer Says Records Request Not Legitimate
In his letter rebuffing Comer's initial effort to recover Hunter Biden's records, Lowell said the Oversight Committee lacked a legitimate reason for seeking the records.
"As your Letter is a sweeping attempt to collect an expansive array of documents and communications from President Biden and his family, I write to explain that the Committee on Oversight and Accountability lacks a legitimate legislative purpose and oversight basis for requesting such records from Mr. Biden, who is a private citizen," Lowell wrote.
Case law states that a House committee must have a specific legislative purpose to pursue records and it cannot simply be an excuse to launch an investigation.
In his Feb. 8 letter, Comer said the activities of Hunter Biden and his business associates "raise significant ethics and national security concerns" and the Oversight Committee "will examine drafting legislation to strengthen federal ethics laws regarding public officials and their families."
"We will also analyze and make recommendations regarding federal laws and regulations to ensure that financial institutions have the proper internal controls and compliance programs to alert federal agencies of potential money laundering activity," he wrote. "The Oversight Committee is committed to exposing the waste, fraud, and abuse that has taken place at the highest levels of our government, and your documents are critical to our investigation."
Read more here…
Tyler Durden
Thu, 03/02/2023 – 17:40
ZeroHedge News
Donate To Address
Donate Via Wallets
Bitcoin
Ethereum
Dogecoin
Monero
Donate Bitcoin to The Bitstream
Scan the QR code or copy the address below into your wallet to send some Bitcoin to The Bitstream
Tag/Note:-
Send Bitcoin (BTC)
Donate Ethereum to The Bitstream
Scan the QR code or copy the address below into your wallet to send some Ethereum to The Bitstream
Tag/Note:-
Send Ethereum (ETH)
Donate Dogecoin to The Bitstream
Scan the QR code or copy the address below into your wallet to send some Dogecoin to The Bitstream
Tag/Note:-
Send Dogecoin (DOGE)
Donate Monero to The Bitstream
Scan the QR code or copy the address below into your wallet to send some Monero to The Bitstream
Tag/Note:-
Send Monero (XMR)
Please Add coin wallet address in plugin settings panel