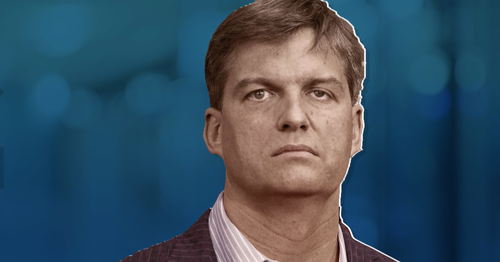 'Big Short' Michael Burry Predicts "Terrible Consequences" From Biden's Student Loan Forgiveness
Investor Michael Burry says "terrible consequences" are in store if student loans are forgiven.
"Let's not forget that the student debt problem is built on a foundation of terrible major choices," Burry tweeted on Tuesday.
"Bailing generations out of those bad choices will mean more bad choices, tuition hikes, and terrible consequences for America."
Burry's comments come as the US Supreme Court considers Tuesday oral arguments over President Biden's student loan forgiveness program, which was legally justified based on the pandemic. The program offered up to $20,000 of loan forgiveness per borrower – an initiative which has been put on hold while the high court debates the case, according to Politico.
During more than three hours of oral argument, conservative justices on the court repeatedly questioned whether the Education Department had the legal authority it claimed to discharge federal student loan debt to help borrowers recover economically from the national emergency spurred by Covid-19.
Chief Justice John Roberts emerged as one of the most hostile voices on the court towards the debt relief plan, repeatedly invoking its overall cost and raising questions about its fairness. -Politico
"We're talking about half a trillion dollars and 43 million Americans," said Roberts early into the arguments, who also slammed the Biden administration's claim that the debt cancellation plan wasn't much different than existing programs that forgive student debts in specific circumstances.
"Because there's a provision to allow [a] waiver when your school closes…because of that Congress shouldn't have been surprised when half a trillion dollars is wiped off the books?" asked Roberts, who added that the administration's decision not to wait for Congress to craft debt-forgiveness legislation may have cut short debates Congress could have had over special treatment vs. people who have paid off their loans.
"Nobody's telling the person who was trying to set up the lawn service business that he doesn't have to pay his loan," said Roberts. "He still does, even though his tax dollars are going to support the forgiveness of a loan for the college graduate who's not going to make a lot more than him over the course of his lifetime."
The 51-year-old Burry who rose to fame betting against the housing market before the 2008 crash took on "well into six figures of educational debt" going to UCLA and then Vanderbilt University for his medical degree. He began his residency at Stanford University, but dropped out to focus on investing.
Meanwhile, Justice Samuel Alito hammered the fairness aspect as well.
"Why is it fair? Why is it fair?….Why was it done?" Alito asked Biden administration lawyer, Solicitor General Elizabeth Prelogar.
In all, four of the conservative justices–Roberts, Alito, Clarence Thomas and Neil Gorsuch–seemed most skeptical of the claimed legal basis for the debt relief plan, while all three of the court's liberals appeared inclined to reject the challenges to the program.
The high court's two other members–Brett Kavanaugh and Amy Coney Barrett–were less clear in their views. Barrett, notably, questioned some of the GOP states' arguments that they had standing to bring the lawsuit. -Politico
Prelogar focused her argument on how the Biden administration was acting within the law to avoid borrower distress during national emergencies, and refuted claims by the plaintiffs that they had been harmed in any way by the policy.
When asked by Justice Clarence Thomas how "half a trillion dollars" fits uinder the "normal understanding of 'modifying'" falls under the scope of the so-called Heroes Act, Preloger countered that the heart of the provision's purpose was to allow the secretary to ensure that borrowers don't suffer financially during a crisis.
Justice Elena Kagan agreed.
"This is an emergency provision," she said, comparing the pandemic to an earthquake. "You don't think Congress wanted to give … the secretary power to say, 'Oh, my gosh, people have had their homes wiped out, we're going to discharge their student loans?'"
As Bloomberg notes, in 1970 the average student debt was just $1,070 – which rose to $31,100 in 2021, an increase of more than 2,800%.
Tyler Durden
Wed, 03/01/2023 – 18:00
ZeroHedge News
Donate To Address
Donate Via Wallets
Bitcoin
Ethereum
Dogecoin
Monero
Donate Bitcoin to The Bitstream
Scan the QR code or copy the address below into your wallet to send some Bitcoin to The Bitstream
Tag/Note:-
Send Bitcoin (BTC)
Donate Ethereum to The Bitstream
Scan the QR code or copy the address below into your wallet to send some Ethereum to The Bitstream
Tag/Note:-
Send Ethereum (ETH)
Donate Dogecoin to The Bitstream
Scan the QR code or copy the address below into your wallet to send some Dogecoin to The Bitstream
Tag/Note:-
Send Dogecoin (DOGE)
Donate Monero to The Bitstream
Scan the QR code or copy the address below into your wallet to send some Monero to The Bitstream
Tag/Note:-
Send Monero (XMR)
Please Add coin wallet address in plugin settings panel