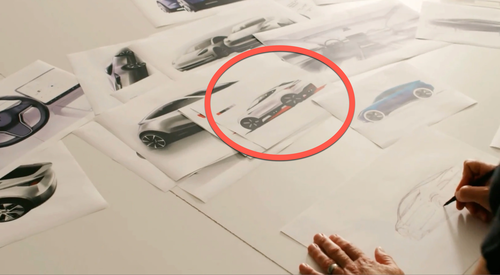 Is This Tesla's New $25,000 Subcompact Car?
A corporate video released by Tesla for the opening of its new engineering headquarters in California might have leaked design drawings of its upcoming new electric compact car, according to Electrek. 
In the video, we see the drawing shown above, and next to it there are two other design drawings that can be directly linked to existing Tesla vehicles:
Those drawings appear to be of a more compact vehicle from Tesla, which is leading some Tesla fans to believe it could be the $25,000 car that Musk talked about before.
An affordable Tesla was announced by Elon Musk back in 2020:
"Tesla will make a compelling $25,000 electric vehicle that is also fully autonomous."
Tesla has been planning for a small hatchback in the future. Electrek pointed out the hatchback could be for Chinese markets.
Model Y was the last new model to be released in 2020. The Cybertruck is next, and deliveries might not begin until late 2023 or early 2024. 
Tesla has been extremely slow at delivering new models to the market, while other EV companies offer diverse lineups to attract buyers. 
Tyler Durden
Mon, 02/27/2023 – 07:45
ZeroHedge News
Donate To Address
Donate Via Wallets
Bitcoin
Ethereum
Dogecoin
Monero
Donate Bitcoin to The Bitstream
Scan the QR code or copy the address below into your wallet to send some Bitcoin to The Bitstream
Tag/Note:-
Send Bitcoin (BTC)
Donate Ethereum to The Bitstream
Scan the QR code or copy the address below into your wallet to send some Ethereum to The Bitstream
Tag/Note:-
Send Ethereum (ETH)
Donate Dogecoin to The Bitstream
Scan the QR code or copy the address below into your wallet to send some Dogecoin to The Bitstream
Tag/Note:-
Send Dogecoin (DOGE)
Donate Monero to The Bitstream
Scan the QR code or copy the address below into your wallet to send some Monero to The Bitstream
Tag/Note:-
Send Monero (XMR)
Please Add coin wallet address in plugin settings panel