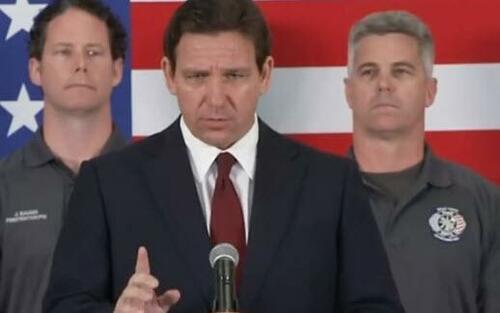 DeSantis Signs Bill Killing Disney World's "Corporate Kingdom"
Florida Governor Ron DeSantis on Monday signed a bill that takes control of a special tax district surrounding Walt Disney World that, as Reuters reports, for half a century allowed Walt Disney Co. to operate with an almost unprecedentedly high degree of autonomy.
The legislation, titled HB 9-B, ends Disney's self-governing status, establishes a new state-controlled district and imposes a five-member state control board, which is appointed by the governor.
The board will also be confirmed by the state Senate.
"Today is the day the corporate kingdom finally comes to an end," DeSantis said.
— Ron DeSantis (@GovRonDeSantis) February 27, 2023
The Republican governor said during the announcement this morning that:
"Allowing a corporation to control its own government is bad policy, especially when the corporation makes decisions that impact an entire region."
Florida Ends the Corporate Kingdom https://t.co/N7lJA1BSXb
— Ron DeSantis (@GovRonDeSantis) February 27, 2023
The law also ends Disney's exemption from state regulatory reviews and codes and it ensures "that Disney will pay its fair share of taxes," DeSantis' office said.
DeSantis' actions come after Disney's advocacy against Florida's Parental Rights in Education bill (the so-called "Don't say gay bill").
As The Epoch Times' Dan Berger reports, DeSantis and other speakers who joined him at the podium reviewed a wide range of issues tied into the tussle with the big entertainment company.
Nick Catarano, a long-time and second-generation Disney employee—his uncle went to work there when the park opened in the 1970s—outlined the company's firing and harassment of employees like himself who didn't want to get COVID shots or wear masks. He also spoke of his dismay at the shift in Disney's once-family-friendly content, one that made him proud, to one many families object to.
"Disney has since doubled down and embraced all things woke increasingly making things like sex, gender, race and worse things the core mission of its storytelling. You know, we've gone from 'Cinderella' and 'Snow White' and 'Pocahontas' and all these great stories with morals and great characters, and have brought us stuff like 'Little Demon' who was the spawn, the child of Satan, as the lead character."
"We have recently seen the cartoon 'Proud Family' on Disney Plus. And that really doesn't tell the whole truth of what happened in our country. They tried to build a narrative that everything in this country is built on the back of slaves and reparations. And what they're doing is they're taking vulnerable children, and they're indoctrinating them into becoming activists and hating each other."
Disney has said it won't resist the new arrangement and will now work with the state, Disney World CEO Jeff Vahle said in a statement.
Tyler Durden
Mon, 02/27/2023 – 14:25
ZeroHedge News
Donate To Address
Donate Via Wallets
Bitcoin
Ethereum
Dogecoin
Monero
Donate Bitcoin to The Bitstream
Scan the QR code or copy the address below into your wallet to send some Bitcoin to The Bitstream
Tag/Note:-
Send Bitcoin (BTC)
Donate Ethereum to The Bitstream
Scan the QR code or copy the address below into your wallet to send some Ethereum to The Bitstream
Tag/Note:-
Send Ethereum (ETH)
Donate Dogecoin to The Bitstream
Scan the QR code or copy the address below into your wallet to send some Dogecoin to The Bitstream
Tag/Note:-
Send Dogecoin (DOGE)
Donate Monero to The Bitstream
Scan the QR code or copy the address below into your wallet to send some Monero to The Bitstream
Tag/Note:-
Send Monero (XMR)
Please Add coin wallet address in plugin settings panel