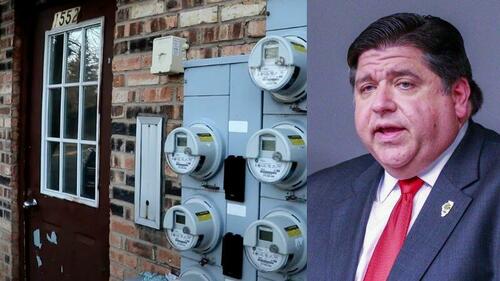 Record 285,000 Illinois Residents Saw Power Shut-Offs Due To Non-Payment In 2022
Authored by Jarryd Jaeger via The Post Millennial,
A new report compiled by the Center for Biological Diversity has revealed that the number of households having their electricity disconnected by power companies as a result of not being able to pay soared between 2021 and 2022.
Leading the way among states who report such data is Illinois, whose main electricity providers shut down power for nearly 300,000 households between January and October 2022, a massive increase over the previous year. 
According to the report, disconnects in Illinois rose 26 percent from 2021 to 284,720 in the first ten months of 2022. The state's two largest electricity providers, Exelon's Commonwealth Edison (ComEd) and Amaren, accounted for the vast majority of shut-offs.
Both companies are investor-owned and have been criticized for increasing executives' salaries while working to make electricity more expensive for customers.
As the report states, ComEd imposed a 26 percent rate hike in October 2021, and gained permission from regulators in November 2022 to raise prices yet again by $199 million. All the while, customers were having their lights turned off for non-payment.
During this time, ComEd was also embroiled in a corruption scandal, in which it was accused of "using ratepayer funds as part of a bribery scheme" to secure the passage of 2011 legislation that implemented a "formula rate" system. The system subjected customers to hundreds of millions of dollars in rate hikes over the last decade, but ComEd benefited to the tune of nearly $4.7 billion.
At the onset of Covid-19, a moratorium on shutoffs due to nonpayment was imposed across the nation, however, Illinois was one of the states that ended the policy as soon as it possibly could. By late 2021, no such forgiveness was offered.
"The preventable practice of disconnections keeps millions of Americans in poverty and narrows their avenues of escape," the report lamented. "By giving utility companies the power to penalize poverty, we license them to perpetuate it."
Tyler Durden
Thu, 02/02/2023 – 19:50
ZeroHedge News
Donate To Address
Donate Via Wallets
Bitcoin
Ethereum
Dogecoin
Monero
Donate Bitcoin to The Bitstream
Scan the QR code or copy the address below into your wallet to send some Bitcoin to The Bitstream
Tag/Note:-
Send Bitcoin (BTC)
Donate Ethereum to The Bitstream
Scan the QR code or copy the address below into your wallet to send some Ethereum to The Bitstream
Tag/Note:-
Send Ethereum (ETH)
Donate Dogecoin to The Bitstream
Scan the QR code or copy the address below into your wallet to send some Dogecoin to The Bitstream
Tag/Note:-
Send Dogecoin (DOGE)
Donate Monero to The Bitstream
Scan the QR code or copy the address below into your wallet to send some Monero to The Bitstream
Tag/Note:-
Send Monero (XMR)
Please Add coin wallet address in plugin settings panel