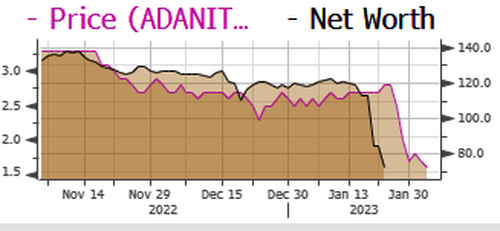 Adani Races To Restore Confidence With Lender Talks As Corporate Empire Falters
Losses in Gautam Adani's corporate empire surged to $108 billion on Thursday, sparking fears of a potential systemic implosion one day after the Indian conglomerate's flagship Adani Enterprises Ltd. scrapped a 200 billion-rupee ($2.4 billion) stock offering. 
The suddenness of the equity offering withdrawal reverberated across markets, politics, and business circles. One dealmaker told Bloomberg that he has never seen an equity offering canceled so quickly in his two-decade career.
Indian lawmakers are questioning and requesting a broader probe into the plunge in Adani Enterprises shares. Even the Reserve Bank of India is checking on banking exposure to ensure there's no systemic threat. 
In a separate report, Bloomberg said Credit Suisse and Citigroup have stopped accepting some bonds issued by Adani's companies as collateral for margin loans to high-net-worth clients. However, Goldman Sachs told investors Adani bond prices have likely hit a floor. 
A crisis in confidence plagues Adani and his corporate empire, and he is racing to plug the holes in his sinking ship.
A person familiar with the situation said Adani is in discussions with lenders to prepay and release pledged shares as he seeks to restore confidence,. 
Adani nor his companies have faced margin calls on these pledges and aiming for quick prepayment, the person said, adding the move is to dismiss concerns about margin calls. 
They noted Adani officials would address investors about the prepayment in the coming days.
This turmoil comes in the wake of Hindenburg Research's short-seller report. The US firm alleges Adani oversees a sprawling empire built on market manipulation and accounting fraud — allegations he and his conglomerate have repeatedly denied.
Simultaneously, Adani's personal wealth has taken a massive hit. In just six trading sessions, the billionaire, but no longer Asia's richest person, has lost $52 billion in personal wealth. 
Adani's primary goal in the short term is to remove concerns about a wave of potential margin calls concerns and default risk as dollar bonds plunge to very distressed levels. 
There is no clear messaging (yet) from India's government if they will get involved in the fight between Hindenburg and Adani. 
"Adani and his officials are trying their best to paint it as a foreign conspiracy against the rise of India as an economic power," said Ashok Swain, head of the Department of Peace and Conflict Research at Uppsala University in Sweden. 
However, fund managers aren't buying that messaging: veteran emerging-markets investor Mark Mobius told Bloomberg that Adani Enterprises' massive debt load "scared us away" from participating in the share offering.
Tyler Durden
Thu, 02/02/2023 – 18:50
ZeroHedge News
Donate To Address
Donate Via Wallets
Bitcoin
Ethereum
Dogecoin
Monero
Donate Bitcoin to The Bitstream
Scan the QR code or copy the address below into your wallet to send some Bitcoin to The Bitstream
Tag/Note:-
Send Bitcoin (BTC)
Donate Ethereum to The Bitstream
Scan the QR code or copy the address below into your wallet to send some Ethereum to The Bitstream
Tag/Note:-
Send Ethereum (ETH)
Donate Dogecoin to The Bitstream
Scan the QR code or copy the address below into your wallet to send some Dogecoin to The Bitstream
Tag/Note:-
Send Dogecoin (DOGE)
Donate Monero to The Bitstream
Scan the QR code or copy the address below into your wallet to send some Monero to The Bitstream
Tag/Note:-
Send Monero (XMR)
Please Add coin wallet address in plugin settings panel