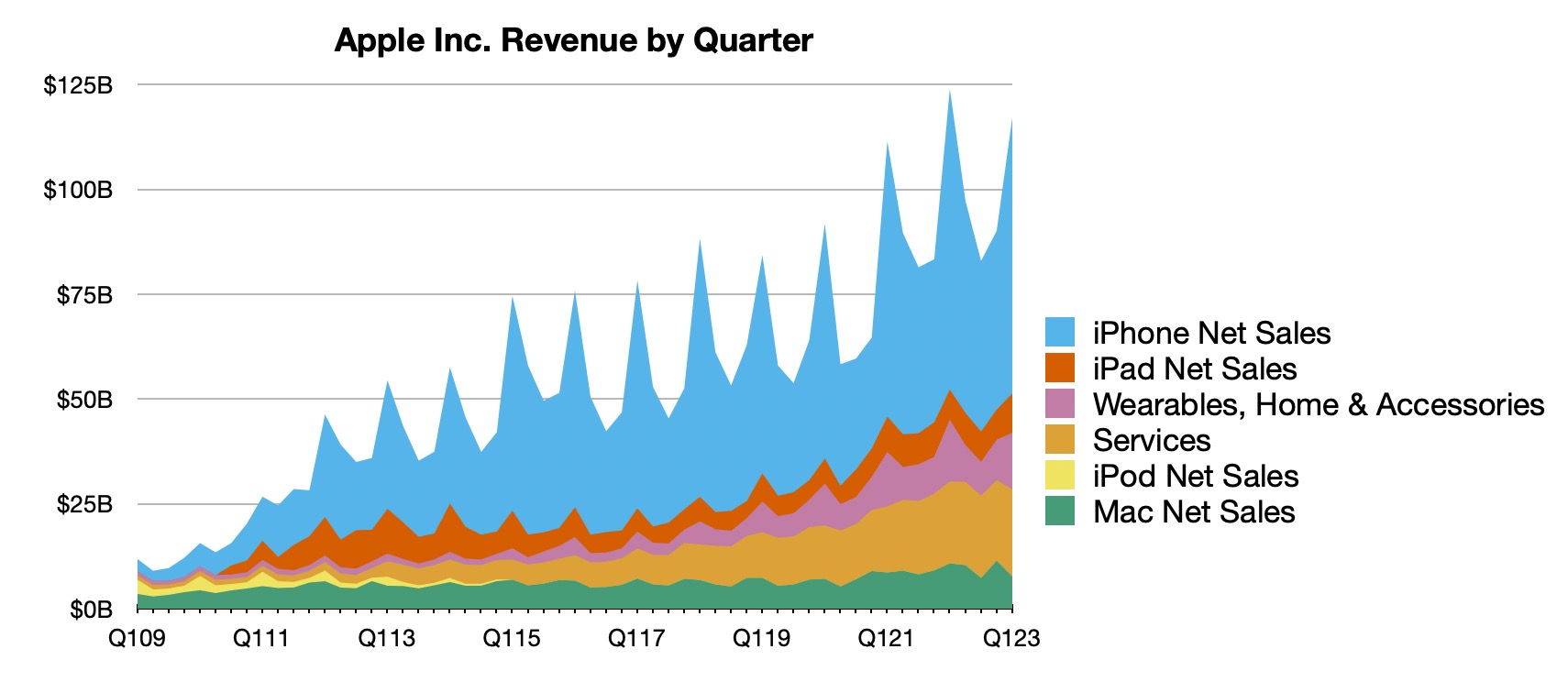 Apple today announced financial results for the first fiscal quarter of 2023, which corresponds to the fourth calendar quarter of 2022.
For the quarter, Apple posted revenue of $117.2 billion and net quarterly profit of $30.0 billion, or $1.88 per diluted share, compared to revenue of $123.9 billion and net quarterly profit of $34.6 billion, or $2.10 per diluted share, in the year-ago quarter.
Apple's revenue was down approximately 5% year-over-year, a steeper decline than had been expected by analysts as Apple grappled with iPhone supply issues in particular but which also saw declines in Mac and wearables.
Gross margin for the quarter was 43.0 percent, compared to 43.8 percent in the year-ago quarter. Apple also declared a quarterly dividend payment of $0.23 per share, payable on February 16 to shareholders of record as of February 13."As we all continue to navigate a challenging environment, we are proud to have our best lineup of products and services ever, and as always, we remain focused on the long term and are leading with our values in everything we do," said Tim Cook, Apple's CEO. "During the December quarter, we achieved a major milestone and are excited to report that we now have more than 2 billion active devices as part of our growing installed base."As has been the case for over two years now, Apple is once again not issuing guidance for the current quarter ending in March.
Apple will provide live streaming of its fiscal Q1 2023 financial results conference call at 2:00 pm Pacific, and MacRumors will update this story with coverage of the conference call highlights.
Conference call starts at 2:00 p.m. Pacific – No need to refresh

Loading live updates…
This article, "Apple Reports 1Q 2023 Results: $30.0B Profit on $117.2B Revenue Amid 'Challenging Environment'" first appeared on MacRumors.com
Discuss this article in our forums
Featured, Earnings
MacRumors: Mac News and Rumors – All Stories
Donate To Address
Donate Via Wallets
Bitcoin
Ethereum
Dogecoin
Monero
Donate Bitcoin to The Bitstream
Scan the QR code or copy the address below into your wallet to send some Bitcoin to The Bitstream
Tag/Note:-
Send Bitcoin (BTC)
Donate Ethereum to The Bitstream
Scan the QR code or copy the address below into your wallet to send some Ethereum to The Bitstream
Tag/Note:-
Send Ethereum (ETH)
Donate Dogecoin to The Bitstream
Scan the QR code or copy the address below into your wallet to send some Dogecoin to The Bitstream
Tag/Note:-
Send Dogecoin (DOGE)
Donate Monero to The Bitstream
Scan the QR code or copy the address below into your wallet to send some Monero to The Bitstream
Tag/Note:-
Send Monero (XMR)
Please Add coin wallet address in plugin settings panel