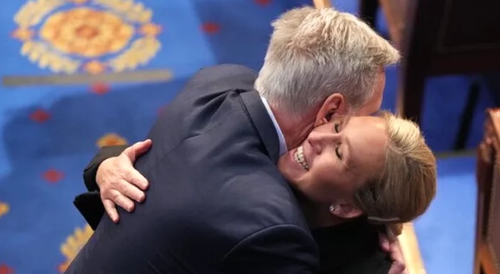 What Is Going On Between Kevin McCarthy And Marjorie Taylor Greene?
Authored by Ben Sellers via Headline USA,
The unusual relationship between new House Speaker Kevin McCarthy, R-Calif., and Rep. Marjorie Taylor Greene, R-Ga., saw another twist Monday after the New York Times quoted McCarthy as pledging his undying loyalty to the second-term congresswoman.
"I will never leave that woman," McCarthy told a friend in a private conversation reported by the Times. "I will always take care of her."
Frightening. Kevin McCarthy on Marjorie Taylor Greene: "I will never leave that woman. I will always take care of her." (New York Times) pic.twitter.com/SDfnk7BioZ
— Mike Sington (@MikeSington) January 23, 2023
Photos of the two becoming unusually close on the House floor began to surface during the votes for House speaker in early January.
Greene, a member of the House Freedom Caucus, surprised many by breaking rank with other conservatives to voice her staunch support of the centrist and often ineffectual McCarthy.
She quickly lashed out at his detractors after the GOP secured a slimmer-than-expected House majority in the November midterm election.
"I want to tell you how shortsighted and ridiculous that is," Greene said in November Steve Bannon's "War Room" podcast.
"It is pathetic, the people that are running out saying it's his fault," she continued. "No, that is a lazy, pathetic, wimpy, easy mindset. They just want one thing and then they want to carry on without doing the hard work—the real changes in the Republican Party and the way we fight the fight."
Ostensibly in return for her loyalty, McCarthy promptly reinstated Greene's committee assignments, which had been revoked in an (at the time) unprecedented partisan move by former Speaker Nancy Pelosi, D-Calif.
Her appointment to the House Homeland Security and Oversight committees roiled leftists, who claimed she was unqualified for the plum posts.
Asked if Rep. Marjorie Taylor Greene should be on Homeland Security and Oversight Committees after previously embracing 9/11 conspiracy theories, GOP Rep. McCaul says, "She has matured, I think. She realizes she doesn't know everything." https://t.co/nvA1rMizYa pic.twitter.com/b6RXExFAPZ
— This Week (@ThisWeekABC) January 22, 2023
According to the Times, McCarthy also "spent hours on the phone trying to cajole senior executives at Twitter to reactivate her personal account after she was banned last year for violating the platform's coronavirus misinformation policy."
LOVE, REPUBLICAN STYLE?
It remained unclear, despite speculation, whether there was a romantic component to the relationship.
Greene was recently divorced amid allegations of infidelity. McCarthy's marital situation is also the subject of intrigue.
Although he and his wife, Judy, have been together since 1992 and have two adult children, he was foisted into the center of speculation after then-Rep. Madison Cawthorn, R-N.C., hinted that McCarthy might be aware of drug-fueled orgies involving Republican members of the Swamp.
McCarthy subsequently went on record saying he had "lost his trust" in Cawthorn.
The nature of McCarthy's relationship with his former landlord, RINO pollster Frank Luntz, who is himself a close friend of Hunter Biden, also raised questions about whether McCarthy's unconventional lifestyle might conflict with his leadership ability.
McCarthy was previously accused of conducting an affair with former Rep. Renee Ellmers, R-N.C., who bears a striking ressemblance to Greene.
Those allegations, based on an anonymous Wikipedia entry, were blamed for derailing an earlier bid for speaker in 2015 after the Freedom Caucus forced the ouster of weepy-eyed ex-Rep. John Boehner, R-Ohio.
After McCarthy dropped out, members settled instead on failed vice-presidential candidate Paul Ryan, R-Mich.
MARRIED TO THE SWAMP?
Some have posited an alternative—although no less unseemly—theory to explain Greene's flirtation with the D.C. Establishment, citing a personnel change as the driving force.
A highly placed conservative GOP staffer on the Hill, speaking on the condition of anonomity, told Headline USA that a shift in Greene's staff "appears to have heavily influenced her shift toward the swamp," especially when her current chief of staff, Ed Buckham, assumed the reins.
Buckham, a longtime Washington insider, was once chief of staff to Majority Whip Tom Delay before forming a K Street lobbying firm called Alexander Strategy Group. He was forced to close the firm and left the lobbying world in the aftermath of the poltical corruption prosecution of his close associate Jack Abramoff until he resurfaced to lead Greene's staff.
Yet, some, including McCarthy, have praised the mollifying effect that Greene's new alliances have had in helping bring her into the mainstream after a bumpy first term.
"If you're going to be in a fight, you want Marjorie in your foxhole," McCarthy explained in a brief interview for the Times article.
"When she picks a fight, she's going to fight until the fight's over," he added. "She reminds me of my friends from high school, that we're going to stick together all the way through."
*  *  *
Ben Sellers is the editor of Headline USA. Follow him at twitter.com/realbensellers.
Tyler Durden
Sat, 01/28/2023 – 20:30
ZeroHedge News
Donate To Address
Donate Via Wallets
Bitcoin
Ethereum
Dogecoin
Monero
Donate Bitcoin to The Bitstream
Scan the QR code or copy the address below into your wallet to send some Bitcoin to The Bitstream
Tag/Note:-
Send Bitcoin (BTC)
Donate Ethereum to The Bitstream
Scan the QR code or copy the address below into your wallet to send some Ethereum to The Bitstream
Tag/Note:-
Send Ethereum (ETH)
Donate Dogecoin to The Bitstream
Scan the QR code or copy the address below into your wallet to send some Dogecoin to The Bitstream
Tag/Note:-
Send Dogecoin (DOGE)
Donate Monero to The Bitstream
Scan the QR code or copy the address below into your wallet to send some Monero to The Bitstream
Tag/Note:-
Send Monero (XMR)
Please Add coin wallet address in plugin settings panel