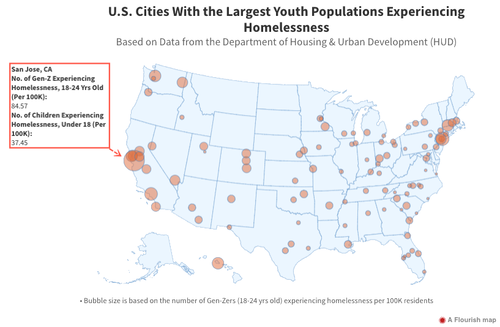 Map Reveals US Cities With Most Homeless Gen-Zers
From couch surfing to shelters to sleeping on the streets, new research revealed the top US cities with the most homeless Gen-Z youth (aged 18 to 24). 
The nonprofit United Way of the National Capital Area reviewed data from the US Census Bureau and the Department of Housing and Urban Development and found San Jose had the largest number of homeless Gen-Z youth per 100,000 residents. New York, Los Angeles, Honolulu, and Seattle round out the top five cities for homeless young adults. 
The latest data from the National Network for Youth, a DC-based nonprofit that helps young people, showed about 3.5 million young adults are homeless. 
When thinking about homelessness, young adults generally don't come to mind. However, their struggles are mounting under the highest inflation in a generation, a lack of affordable housing, and a nationwide drug crisis. 
Millennials don't realize how good they have it – at least their baby boomer parents have basements. 
It does not surprise us that the cities with the most homeless Gen-Zers are Democratically-run. 
Tyler Durden
Sat, 01/28/2023 – 22:00
ZeroHedge News
Donate To Address
Donate Via Wallets
Bitcoin
Ethereum
Dogecoin
Monero
Donate Bitcoin to The Bitstream
Scan the QR code or copy the address below into your wallet to send some Bitcoin to The Bitstream
Tag/Note:-
Send Bitcoin (BTC)
Donate Ethereum to The Bitstream
Scan the QR code or copy the address below into your wallet to send some Ethereum to The Bitstream
Tag/Note:-
Send Ethereum (ETH)
Donate Dogecoin to The Bitstream
Scan the QR code or copy the address below into your wallet to send some Dogecoin to The Bitstream
Tag/Note:-
Send Dogecoin (DOGE)
Donate Monero to The Bitstream
Scan the QR code or copy the address below into your wallet to send some Monero to The Bitstream
Tag/Note:-
Send Monero (XMR)
Please Add coin wallet address in plugin settings panel