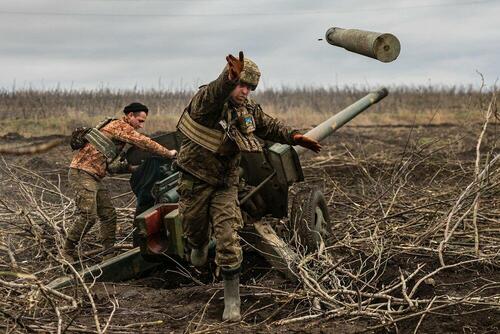 Pentagon Forced To Tap Unreported Ammo Stockpile In Israel To Support Ukraine
The New York Times this week has detailed more of the desperate behind the scenes scramble of US and Western officials to keep up the steady supply of arms and ammo, especially artillery munitions (155mm shells), to Ukraine in order to beat back the Russian invasion. It's yet another significant acknowledgement of the Pentagon's own dwindling stockpiles as it now must tap heretofore not publicly disclosed stores in Israel…
"The Pentagon is tapping into a vast but little-known stockpile of American ammunition in Israel to help meet Ukraine's dire need for artillery shells in the war with Russia, American and Israeli officials say," the Times reports. "The stockpile provides arms and ammunition for the Pentagon to use in Middle East conflicts. The United States has also allowed Israel to access the supplies in emergencies."
Ukrainian artillery position on outskirts of Bakhmut, eastern Ukraine. AFP
Western backers of Kiev are currently also seeking to prepare Ukraine to defend against an anticipated Russian spring offensive, and Ukrainian forces need hundreds of thousands of rounds. 
As for what's being tapped from the Pentagon's ammo stores in Israel, "About half of the 300,000 rounds destined for Ukraine have already been shipped to Europe and will eventually be delivered through Poland, Israeli and American officials said," according to the report.
The stockpile in Israel has previously gone unreported, while another stockpile held oversees is also being tapped, in South Korea. Both countries have themselves thus far maintained an official policy of not arming Ukraine, with Israel in particular coming under pressure by both Washington and Ukrainian officials to send lethal aid.
Israeli reluctance and the fact that it must walk a fine diplomatic line with Russia given the Russian military presence in Syria, makes the Pentagon using its Israeli stores for a conflict in eastern Europe deeply controversial. 
The new Tuesday NYT report continues a consistent theme which has been an issue concerning US defense officials since even the opening months of the war – how to arm Ukraine enough to claw back territory without endangering America's own defense preparedness.
The Times underscores this dilemma in the following: "The shipment of hundreds of thousands of artillery shells from the two stockpiles to help sustain Ukraine's war effort is a story about the limits of America's industrial base and the diplomatic sensitivities of two vital U.S. allies that have publicly committed not to send lethal military aid to Ukraine."
Last week, at a defense conference in D.C. some among the US Navy's top leadership put the dilemma in stark terms, with a reporter from Defense One capturing a top commander's words: "An admiral alluded to the US needing to choose between itself and Ukraine during a panel at the conference."
Tyler Durden
Wed, 01/18/2023 – 09:05
ZeroHedge News
Donate To Address
Donate Via Wallets
Bitcoin
Ethereum
Dogecoin
Monero
Donate Bitcoin to The Bitstream
Scan the QR code or copy the address below into your wallet to send some Bitcoin to The Bitstream
Tag/Note:-
Send Bitcoin (BTC)
Donate Ethereum to The Bitstream
Scan the QR code or copy the address below into your wallet to send some Ethereum to The Bitstream
Tag/Note:-
Send Ethereum (ETH)
Donate Dogecoin to The Bitstream
Scan the QR code or copy the address below into your wallet to send some Dogecoin to The Bitstream
Tag/Note:-
Send Dogecoin (DOGE)
Donate Monero to The Bitstream
Scan the QR code or copy the address below into your wallet to send some Monero to The Bitstream
Tag/Note:-
Send Monero (XMR)
Please Add coin wallet address in plugin settings panel