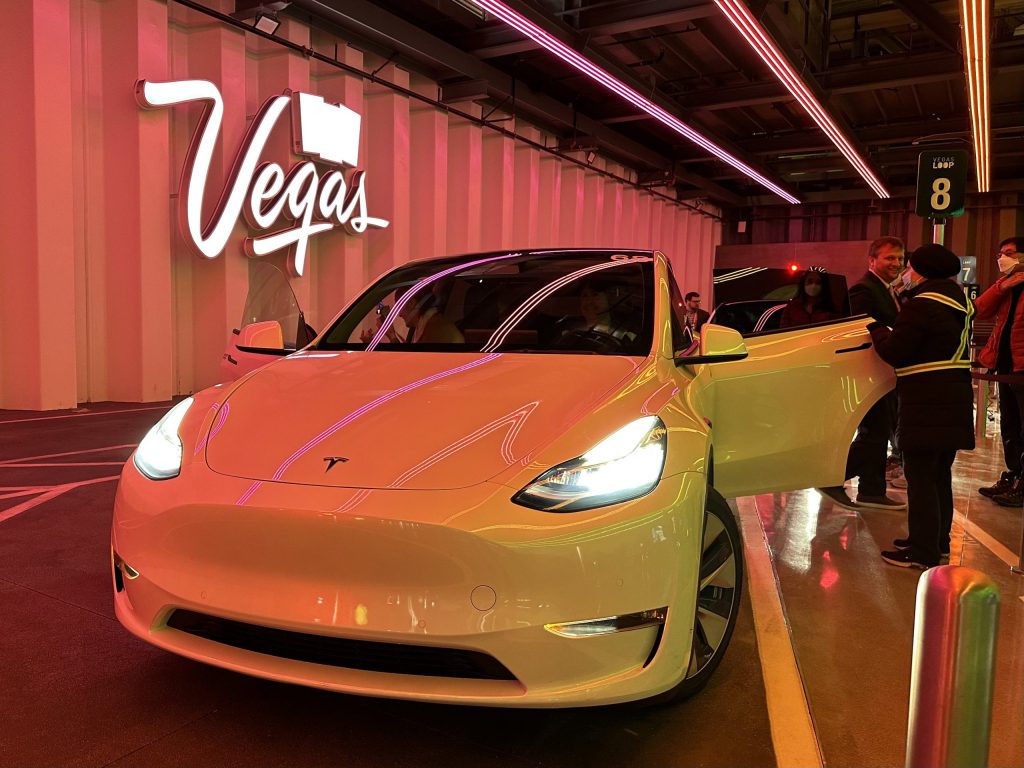 The Boring Company has released the stats of its Loop system at the Las Vegas Convention Center following CES 2023, which ran from January 5 to January 8, 2023. Based on the numbers released by the tunneling startup and social media posts from CES attendees, the LVCC Loop is hitting its rhythm. 
In a Twitter post, The Boring Company noted that it was grateful for the opportunity to provide transportation for Las Vegas Convention Center visitors during the high-profile event. The tunneling startup included a number of key stats about the system in its post, both during the event and during the fourth quarter of 2022. 
As per The Boring Company, the average ride time in the LVCC Loop was less than two minutes seconds, the average wait time for passengers was less than 10 seconds, and the Loop was able to accommodate over 94,000 total passengers, including over 10,000 who traveled to and from Resorts World. Overall, the Boring Company noted that the LVCC Loop's Q4 Customer Experience Score has been over 4.9/5.0, an impressive feat considering the overall age of the system. 
"Was our privilege to provide transportation for @LVCVA at an amazing @CES convention. Fun Loop stats: average ride time < 2 min, average wait time < 10 sec, 94k+ total passengers, 10k+ passengers to/from Resorts World, and average Q4 LVCC Customer Experience Score > 4.9/5.0!" the Boring Company wrote. 
While there will always be critics of The Boring Company, the LVCC Loop has attracted a lot of positive attention from attendees of the event. Social media posts about rides in the LVCC Loop are abounding, with a good number of users sharing their appreciation for the project. Author Marsha Collier, who attended CES, described the system as "super fast" and "efficient." She also noted that the LVCC Loop had great employees. 
Other users highlighted that the LVCC Loop does save a lot of time since without it, going around the area typically results in a 20-minute walk or so. Another CES attendee, @rockynashlive, noted that she appreciated the fact that she was able to network longer than usual with other attendees because the LVCC Loop saves time. 
Videos of the tunnels from the LVCC Loop to the Resorts World station have also been shared online, and they hint that the first stages of the Vegas Loop are at least working well. Overall, it does appear that during CES, at least, The Boring Company's Loop system does provide a time-efficient, comfortable way to optimize the transportation of commuters in the Las Vegas Convention Center complex.
The Teslarati team would appreciate hearing from you. If you have any tips, contact me at maria@teslarati.com or via Twitter @Writer_01001101.
The post The Boring Company posts impressive LVCC Loop stats from CES 2023 appeared first on TESLARATI.
News, Featured, The Boring Company
TESLARATI
Donate To Address
Donate Via Wallets
Bitcoin
Ethereum
Dogecoin
Monero
Donate Bitcoin to The Bitstream
Scan the QR code or copy the address below into your wallet to send some Bitcoin to The Bitstream
Tag/Note:-
Send Bitcoin (BTC)
Donate Ethereum to The Bitstream
Scan the QR code or copy the address below into your wallet to send some Ethereum to The Bitstream
Tag/Note:-
Send Ethereum (ETH)
Donate Dogecoin to The Bitstream
Scan the QR code or copy the address below into your wallet to send some Dogecoin to The Bitstream
Tag/Note:-
Send Dogecoin (DOGE)
Donate Monero to The Bitstream
Scan the QR code or copy the address below into your wallet to send some Monero to The Bitstream
Tag/Note:-
Send Monero (XMR)
Please Add coin wallet address in plugin settings panel