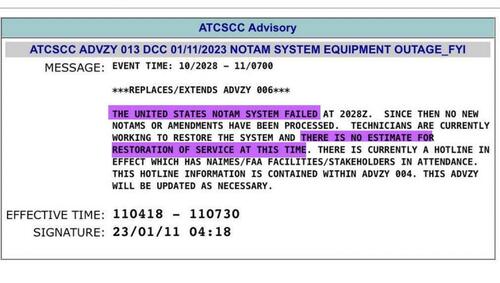 Flights Across US Affected After FAA Computer System "Failed"
Early Wednesday morning, the US Federal Aviation Administration's (FAA) system that notifies pilots about hazards or any changes to airport facility services suffered an outage that might result in a nationwide grounding. 
The FAA wrote in an advisory update that its NOTAM (Notice to Air Missions) system had "failed." The aviation agency provided no immediate estimate for when it would return online. 
"THE FAA is experiencing an outage that is impacting the update of NOTAMS. All flights are unable to be released at this time," the FAA said in a statement.
In a statement to NBC News, the FAA said, "Operations across the National Airspace System are affected." 
So far, 1,162 flights have been delayed within, into, or out of the US, flight tracking website FlightAware showed. Another 94 were canceled. 
Flights are being grounded nationwide. 
Just an FYI if you are planning to fly today (as I sit on a plane I boarded at 5am), FAA's NOTAM system is down and basically all planes within and coming in and out of the U.S. are grounded. Our pilot says they have no idea when it will be functioning again. So. pic.twitter.com/4iW11Ns2vr
— Asha Rangappa (@AshaRangappa_) January 11, 2023
BREAKING NEWS: 🚨🚨
Dozens of flights have been delayed at Charleston International airport due to a FAA computer malfunction.
We haven't seen any flights leave Charleston in the past 40-45 minutes.
Tune into @ABCNews4 for the latest updates #Working4You pic.twitter.com/kcZugsJaqo
— Sean Mahoney (@SeanMahoneyTV) January 11, 2023
It's probably not a good time to fly this morning. 
Breaking: FAA grounds all U.S. flights due to system outage pic.twitter.com/6Kx7kqMzyO
— Morning Joe (@Morning_Joe) January 11, 2023
#Breaking: Flight delays reported across U.S. after #FAA computer outage. Here's what we know at the moment: pic.twitter.com/y8uN8CG1oV
— Cayle Thompson (@CayleThompson) January 11, 2023
Passengers are beginning to complain on social media about canceled flights. 
FAA computer outage has grounded flights nationwide this morning. Boarded at 5:30AM as the first flight of the day. Currently delayed indefinitely. Idk if I'll be making this cruise out of Florida… 😢🌴🚢 pic.twitter.com/SBy8q2sD2N
— Stephanie Grindley (@StephanieGTV) January 11, 2023
FAA outage also affecting flights abroad. Our flight from FCO – PHL is halted on the runway.
— Allie Evans (@whattheklutz) January 11, 2023
The FAA has grounded all flights due to a computer outage. Sitting on a plane @EWRairport on @UnitedAirlines pic.twitter.com/Rlq5OBmiJd
— Alan Smith (@alan_f_smith) January 11, 2023
Currently sitting on the runway and am seeing that the FAA is grounding all flights in the US for a system outage…
if yal gone cancel, do it now so I can go get back in my bed 😩🙏🏽
— Jay Dub (@TheSweetest_Jay) January 11, 2023
Sitting in DCA, they just told us there is a nation-wide FAA outage. No flights are moving anywhere. Anyone have any clue what's going on?
— GChris (@GChris65) January 11, 2023
@AmericanAir I've been sitting on a full plane at the gate at LAX for 2+ hours for a system issue with the FAA. When will this be resolved? #flightdelay
— Lynn (@birdsonglynn1) January 11, 2023
*Developing 
Tyler Durden
Wed, 01/11/2023 – 06:35
ZeroHedge News
Donate To Address
Donate Via Wallets
Bitcoin
Ethereum
Dogecoin
Monero
Donate Bitcoin to The Bitstream
Scan the QR code or copy the address below into your wallet to send some Bitcoin to The Bitstream
Tag/Note:-
Send Bitcoin (BTC)
Donate Ethereum to The Bitstream
Scan the QR code or copy the address below into your wallet to send some Ethereum to The Bitstream
Tag/Note:-
Send Ethereum (ETH)
Donate Dogecoin to The Bitstream
Scan the QR code or copy the address below into your wallet to send some Dogecoin to The Bitstream
Tag/Note:-
Send Dogecoin (DOGE)
Donate Monero to The Bitstream
Scan the QR code or copy the address below into your wallet to send some Monero to The Bitstream
Tag/Note:-
Send Monero (XMR)
Please Add coin wallet address in plugin settings panel