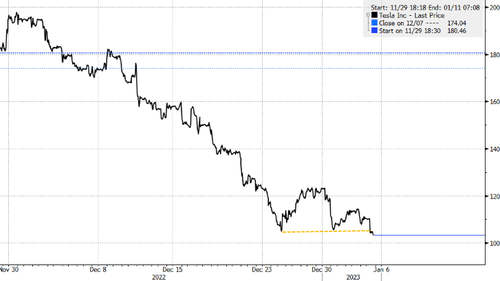 Tesla Shares Tumble As More Price Cuts Hit Chinese Market
Tesla shares fell more than 6% in premarket trading as the carmaker announced another round of price cuts in the Chinese market that now makes a Model Y sport utility vehicle price significantly cheaper than ones sold in the US. 
Bloomberg first noticed the price cuts of the locally built Model Y on the company's Chinese website. The price plunged to a new low of 259,900 yuan ($37,875) from 288,900 yuan ($42,106). This means that the standard-range Model Y is now 43% less than the most basic Model Y made in the US. The Model 3 was also cut to 229,900 yuan ($35,500) from 265,900 yuan ($38,750), about 30% cheaper than the standard version sold Stateside. 
China's increasingly crowded EV market in October forced Tesla to slash vehicle prices. Domestic EV companies such as BYD Co., Xpeng Inc., and Nio Inc. are increasing market share, threatening Tesla's dominance in the Asian market. International carmakers, such as Porsche AG and Mercedes Benz Group AG, also grow EV sales in the region. 
Traders found the price cuts as more bearish news as the global EV market cools. Tesla's shares fell 6.4% to $103.25 in premarket trading. 
Twitter users also pointed out that the carmaker has no new models planned for the Chinese market this year. Where is that Cybertruck?
These are really big price cuts for Tesla in China. What's worse is that Tesla has NO NEW MODELS even PLANNED for that market. https://t.co/Slu8UzxixB
— Taylor Ogan (@TaylorOgan) January 6, 2023
The latest total deliveries from Tesla in the fourth quarter were 405,278 vehicles but missed Wall Street estimates. 
Tesla is facing a significant demand problem that could continue pressuring shares lower. 
Tyler Durden
Fri, 01/06/2023 – 08:15
ZeroHedge News
Donate To Address
Donate Via Wallets
Bitcoin
Ethereum
Dogecoin
Monero
Donate Bitcoin to The Bitstream
Scan the QR code or copy the address below into your wallet to send some Bitcoin to The Bitstream
Tag/Note:-
Send Bitcoin (BTC)
Donate Ethereum to The Bitstream
Scan the QR code or copy the address below into your wallet to send some Ethereum to The Bitstream
Tag/Note:-
Send Ethereum (ETH)
Donate Dogecoin to The Bitstream
Scan the QR code or copy the address below into your wallet to send some Dogecoin to The Bitstream
Tag/Note:-
Send Dogecoin (DOGE)
Donate Monero to The Bitstream
Scan the QR code or copy the address below into your wallet to send some Monero to The Bitstream
Tag/Note:-
Send Monero (XMR)
Please Add coin wallet address in plugin settings panel