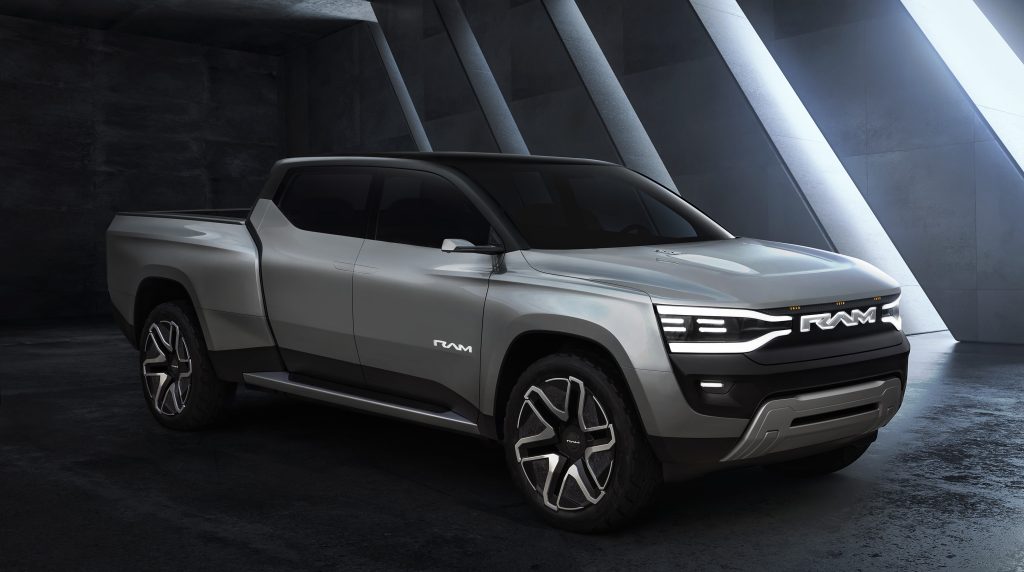 Stellantis' Ram Truck brand revealed its RAM 1500 Revolution battery electric vehicle concept during CES 2023 in Las Vegas. The all-electric RAM pickup has already generated some buzz in the market for its exciting features and next-gen design. With the growing electrified pickup truck market, RAM has developed a strong contender with the 1500 Revolution BEV.
RAM 1500 Revolution BEV Details
The RAM 1500 Revolution BEV will be built on Stellantis' STLA Frame EV platform, designed to deliver a range of up to 500 miles (800 km). Unlike other STLA platforms—which are unibody—the STLA Frame platform is a body-on-frame. In the past, Stellantis planned to use 2 battery cell chemistries to ensure affordability in its electric vehicles. The company will have to carefully consider the RAM 1500 Revolution's starting price if it wants the pickup to qualify for tax incentives under the Inflation Reduction Act.
The electrified RAM 1500 Revolution concept includes some nifty tech innovations, including digital side-view mirrors. The rearview mirror alone is packed with tech, like a smart backup camera with 360-degree views, plus speakers and receivers compatible with voice assistants like Alexa and Siri. The review mirror is connected to biometric cameras, which observe the RAM 1500 Revolution's surrounding environment.
With its EV pickup concept, RAM plans to take advantage of the most useful tech innovations on the market. For instance, the biometric cameras appear connected to the EV pickup truck's biometric identity recognition and two-factor authentication. The RAM 1500 BEV also utilizes augmented reality (AR) for a see-through heads-up display (HUD). Other features RAM plans for the 1500 Revolution BEV are Shadow Mode and an exterior projector.
Ram 1500 Revolution Battery-electric Vehicle (BEV) Concept front three-quarters
Ram 1500 Revolution Battery-electric Vehicle (BEV) Concept side profile
Ram 1500 Revolution Battery-electric Vehicle (BEV) Concept tailgate
Ram 1500 Revolution Battery-electric Vehicle (BEV) Concept armrest extended and open
Ram 1500 Revolution Battery-electric Vehicle (BEV) Concept center console and screen
Ram 1500 Revolution Battery-electric Vehicle (BEV) Concept interior
(Credit: Stellantis)
RAM vs. Tesla Cybertruck, Rivian R1T & the Ford F-150 Lightning
RAM aims to redefine the pickup truck segment, demonstrating its position in the EV pickup truck market along the way. It is one of North America's top pickup truck brands, alongside Ford and Chevrolet. The Ram pickup, Ford F-Series pickup, and Chevy Silverado have long held the top three positions in the pickup truck market in the United States. Still, the advent of electric vehicles has opened up the pickup segment to other legacy competitors and EV startups.
Tesla Cybertruck
Tesla unveiled its Cybertruck concept in 2019 and has yet to deliver the futuristic pickup truck. However, Giga Texas has started preparing for Cybertruck production in 2023. Tesla plans to deliver its first batch of Cybertruck units to customers this year. 
When the electric truck concept was first revealed, it generated a lot of buzz for its unique design and technology. But other EV trucks have started selling on the market since 2019, so Tesla has improved the Cybertruck's design and introduced up-to-date technology to the pickup truck. Due to the Cybertruck's design changes, its prices might also change. 
"I worry more about like how do we the Cybertruck affordable despite having awesome technology. That's the thing that will really set the rate," Elon Musk said back in the Q4 2021 earnings call.
Rivian R1T
The Rivian R1T has generated some buzz of its own since hitting the market. Rivian's electric pickup truck appeals to a niche customer base who live for adventure and fun. Rivian literally threw everything into the R1T that an explorer would need—including the kitchen sink. 
In preparation for 2023, Rivian has tweaked its R1T configuration options. For instance, the Rivian R1T Quad-Motor with Max battery pack is unavailable this year. However, the company strives to improve its vehicle. Last month, Rivian announced that the 2023 R1T with 21-inch wheels received the highest EPA range estimate for an electric truck in the market. 
Ford F-150 Lightning
If Rivian was made for fun and adventure, Ford designed the F-150 Lightning for heavy-duty work. Ford's all-electric pickup won Motor Trend's 2023 Pickup Truck of the Year. It was the first electric pickup to win the award with a unanimous vote from the judges. 
Ford is steadily ramping up F-150 Lightning production at its Dearborn Truck Plant and Rouge Electric Vehicle Center in Michigan. The legacy automaker initially targeted an annual manufacturing capacity of 40,000 units for the F-150 Lightning. However, demand for the electric pickup seems to be strong since Ford doubled its manufacturing capacity for the Lightning to 80,000 vehicles annually by 2024. 
With the RAM 1500 Revolution, Rivian R1T, Ford F-150 Lightning, and Tesla Cybertruck, the electric pickup truck market is starting to take shape. More competitors are likely to come in the future—like Volkswagen's Scout pickup—making the EV pickup truck market something to watch in the coming years. 
The Teslarati team would appreciate hearing from you. If you have any tips, contact me at maria@teslarati.com or via Twitter @Writer_01001101.
The post Stellantis RAM 1500 Revolution vs Tesla Cybertruck, Rivian R1T & the Ford F-150 Lightning  appeared first on TESLARATI.
News, Featured, Ford Lightning, Rivian R1T, Stellantis, Stellantis RAM 1500 Revolution, Tesla Cybertruc
TESLARATI
Donate To Address
Donate Via Wallets
Bitcoin
Ethereum
Dogecoin
Monero
Donate Bitcoin to The Bitstream
Scan the QR code or copy the address below into your wallet to send some Bitcoin to The Bitstream
Tag/Note:-
Send Bitcoin (BTC)
Donate Ethereum to The Bitstream
Scan the QR code or copy the address below into your wallet to send some Ethereum to The Bitstream
Tag/Note:-
Send Ethereum (ETH)
Donate Dogecoin to The Bitstream
Scan the QR code or copy the address below into your wallet to send some Dogecoin to The Bitstream
Tag/Note:-
Send Dogecoin (DOGE)
Donate Monero to The Bitstream
Scan the QR code or copy the address below into your wallet to send some Monero to The Bitstream
Tag/Note:-
Send Monero (XMR)
Please Add coin wallet address in plugin settings panel