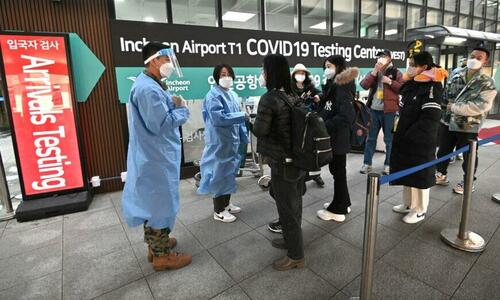 Nearly 80% Of COVID Cases Among International Arrivals In South Korea Are From China
Authored by Lisa Bian via The Epoch Times,
On Jan. 3, the South Korean government announced that travelers from Hong Kong and Macau must provide a negative COVID-19 test from Jan. 7, in addition to arrivals from mainland China, and 76 percent of positive COVID-19 cases at the South Korean border were in Chinese people.
The Korea Disease Control and Prevention Agency (KDCA) said that from Saturday, visitors from Hong Kong and Macau would be required to show proof of a negative PCR test within 48 hours of departure, or a negative rapid antigen test within 24 hours when entering Korea. Travelers would be required to upload test results on the Q-CODE website before boarding the plane.
Travelers from Hong Kong and Macau are only required to take a pre-departure test for COVID-19 and are not restricted from applying for a short-term visa. However, if there are any symptoms, a COVID-19 test must be done after entry into the country, and those found positive at the airport must quarantine for seven days at their own expense.
According to the KDCA, the number of imported COVID-19 cases in South Korea on Jan. 3 was 172, the highest in three months, of which 131 (76.2 percent) were from China. In the previous week, 31 percent of imported COVID-19 cases were from China. South Korea started to test all travelers from China for the disease on Jan. 2.
Cho Kyu-hong, minister of health and welfare and the first director of the KDCA, said at a meeting on Jan. 4, "We need to be on high alert for the pandemic in China at this time."
In the absence of transparent information about the current outbreak in mainland China, many countries around the world have adopted entry restrictions on Chinese travelers.
On Dec. 30, 2022, the South Korean government announced the temporary suspension of short-term visas from mainland China to Korea; the suspension of additional flights from mainland China; the requirement for pre-departure tests for travelers from China; and that those testing positive upon arrival must undergo a seven-day quarantine at an isolation facility designated by the South Korean government at their own expense.
In a regular press conference, Lim Sook-young, the head of the situation coordination team at the KDCA, explained on Jan. 4 that the South Korean government considered the differences between mainland China, Hong Kong, and Macau in terms of pandemic data. In particular, the discontinuation of the publication of statistics on COVID-19 in China makes it difficult to get an accurate picture of the pandemic. Owing to the lack of transparency in China, the South Korean government took stronger measures on arrivals from China than from Hong Kong and Macau.
The Chinese Communist Party abolished its zero-COVID policy in early December, and in the midst of a major outbreak in China, the regime's Health Commission suspended the release of daily pandemic data on Dec. 25. The World Health Organization has repeatedly asked Chinese authorities to share specific information on the outbreak in real time.
South Korean authorities plan to monitor the flow of the pandemic in Hong Kong and Macau and decide whether to introduce additional prevention measures.
Regarding the possibility of Chinese travelers presenting forged negative COVID-19 tests and flying on passenger planes, Lim said that there have been some cases of forged PCR test results being used.
In addition, South Korea started to strengthen its measures against mainland China on Jan. 2. Just one day after that, according to the Incheon Police Department, a Chinese visitor to South Korea tested positive at Incheon International Airport on the evening of Jan. 3 and was placed in a quarantine facility at a nearby hotel. He escaped during the transfer to the quarantine site and is now being pursued by police.
In addition, there is a shortage of cold and fever medicine, after the outbreak in mainland China. The South Korean government said it is concerned about the shortage of cold medicine in the country owing to massive purchases of medicine by Chinese people. Authorities established a purchase limit on cold medicine sold in pharmacies on Dec. 30 last year, while stepping up efforts to crack down on the smuggling of cold medicine through airports and parcels.
According to Korean outlet NEWSIS, one Chinese man bought 6 million won (about $4,700) of antipyretic and cold medicine at a pharmacy in the city of Hanam, Gyeonggi Province.
Tyler Durden
Fri, 01/06/2023 – 15:25
ZeroHedge News
Donate To Address
Donate Via Wallets
Bitcoin
Ethereum
Dogecoin
Monero
Donate Bitcoin to The Bitstream
Scan the QR code or copy the address below into your wallet to send some Bitcoin to The Bitstream
Tag/Note:-
Send Bitcoin (BTC)
Donate Ethereum to The Bitstream
Scan the QR code or copy the address below into your wallet to send some Ethereum to The Bitstream
Tag/Note:-
Send Ethereum (ETH)
Donate Dogecoin to The Bitstream
Scan the QR code or copy the address below into your wallet to send some Dogecoin to The Bitstream
Tag/Note:-
Send Dogecoin (DOGE)
Donate Monero to The Bitstream
Scan the QR code or copy the address below into your wallet to send some Monero to The Bitstream
Tag/Note:-
Send Monero (XMR)
Please Add coin wallet address in plugin settings panel