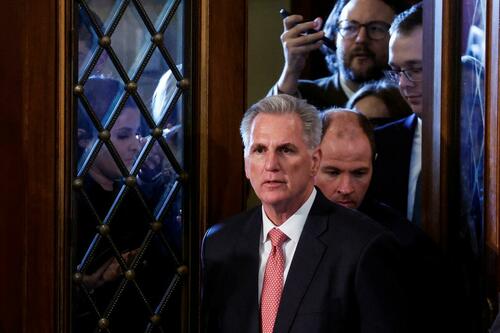 McCarthy Walks Back 'Deal' Talk, Starts Shouting At Reporters
Update (1045ET): The chaos continues! After initial reports that there was a deal, McCarthy walked it back, saying there isn't one, but they are in a 'great place.'
He then started shouting at journalists to get off the call.
Summary:
– McCarthy loses 11 votes for speaker
– Today, is reported to claim he has a deal on a call
– Walks it back saying he doesn't have a call but is in a great place
– Is now shouting at journalists to get off the call and he doesn't have a deal https://t.co/GPsLPPxiZw
— Newsquawk (@Newsquawk) January 6, 2023
*  *  *
Update (1035ET): Kevin McCarthy said on today's GOP call that he and holdout leader Chip Roy have struck a deal.
🚨🚨🚨NEWS— KEVIN MCCARTHY ANNOUNCES ON GOP CALL THAT HE AND CHIP ROY HAVE A DEAL
— Jake Sherman (@JakeSherman) January 6, 2023
*  *  *
After losing 11 votes, the most since before the Civil War, Rep. Kevin McCarthy (R-CA) is now confident that a deal for his ascension to House Speaker is imminent.
Rep. Kevin McCarthy passes reporters as he returns to the House chamber on Thursday. (Jonathan Ernst/Reuters)
"We're going to make progress today, we're going to shock you," he told reporters ahead of a 10:15 a.m. ET call on Friday.
"We'll have to see you know we have a couple members who have some family issues," he said when asked about the current framework for a deal, adding "we're going to get it done."
As Punchbowl News reports, however, the situation is 'highly fluid,' to say the least.
As House Republicans enter the fourth day of this internecine struggle, the GOP leadership's plans seemingly change at a moment's notice. One minute they're going to move to adjourn, the next, they're ready to start another round of voting. At times it seems like significant progress is being made, only for that to turn out to be a mirage.
Yet GOP leaders now believe they're reaching a tipping point. Either a large bloc of McCarthy's 20 conservative opponents moves in his direction following yet another round of negotiations or McCarthy's quest to become speaker may have stalled out permanently.
The House is set to reconvene at Noon, ET.
According to Punchbowl, McCarthy may 'grind it out' and hold votes over the weekend – or as long as it takes until the speaker's race is wrapped up.
"We shouldn't leave. Why should we leave if we haven't got our work done?" he told the outlet at 9:45 p.m. Thursday night.
When asked if his allies are pressuring him to step aside in favor of another Republican, such as Majority Leader Steve Scalise, he said "Have you seen any drop [in my support]? But you would've thought" that would occur.
"Who else can get to 218?" he added.
"I feel good today, really. I felt very positive yesterday. I feel more positive today. I think we had really good discussions. I think it's really come to a really good point."
McCarthy is still 18 votes or so shy of becoming speaker.
Rep. Matt Gaetz talks to fellow House members during the second day voting on Wednesday. (Anna Moneymaker/Getty Images)
McCarthy's backers who have been working on a deal include Reps. Patrick McHenry (R-NC), French Hill (R-AR), Bruce Westerman (R-AR), Garret Graves (R-LA), Jim Jordan (R-OH), plus Emmer and his chief deputy, Rep. Guy Reschenthaler of Pennsylvania. This team has been burning the midnight oil with conservative hardliners Reps. Chip Roy (R-TX), Scott Perry (R-PA) and Byron Donalds (R-FL).
if Roy is able to reach a deal with the pro-McCarthy faction on the rules package, Roy needs to bring along 10 or so Republicans with him. McCarthy can then try to pressure the final conservative holdouts to move to his side. It's a high-wire act that needs to be executed impeccably. So far, it hasn't yielded the results McCarthy has hoped for, obviously. -Punchbowl
The anti-McCarthy crew want, among other things, changes in rules and changes in policy.
"There are some of the others … who want changes in the rules and there are some others who care about policy," said Rep. Ken Buck (R-CO) to CNN on Wednesday. "So I think if Steve (Scalise) meets those three needs, he will be able to move forward and take the speakership."
Rep. Ralph Norman of South Carolina says he won't budge on McCarthy unless he's "willing to shut the government down rather than raising the debt ceiling."
McCarthy can also try to find a few Democrats to form a coalition and cross the aisle in order to edge out the hardline Republicans.
Tyler Durden
Fri, 01/06/2023 – 10:33
ZeroHedge News
Donate To Address
Donate Via Wallets
Bitcoin
Ethereum
Dogecoin
Monero
Donate Bitcoin to The Bitstream
Scan the QR code or copy the address below into your wallet to send some Bitcoin to The Bitstream
Tag/Note:-
Send Bitcoin (BTC)
Donate Ethereum to The Bitstream
Scan the QR code or copy the address below into your wallet to send some Ethereum to The Bitstream
Tag/Note:-
Send Ethereum (ETH)
Donate Dogecoin to The Bitstream
Scan the QR code or copy the address below into your wallet to send some Dogecoin to The Bitstream
Tag/Note:-
Send Dogecoin (DOGE)
Donate Monero to The Bitstream
Scan the QR code or copy the address below into your wallet to send some Monero to The Bitstream
Tag/Note:-
Send Monero (XMR)
Please Add coin wallet address in plugin settings panel