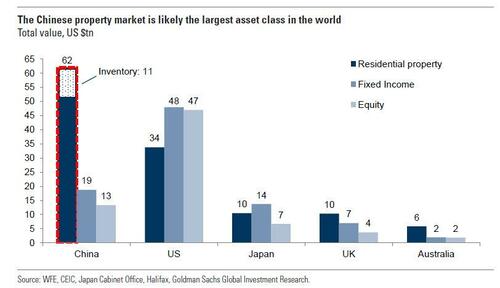 In Huge Policy Reversal, China Will Ease "Three Red Lines" Rule To Kickstart World's Biggest Asset Bubble
Back in 2020, around the time Xi Jinping decided to burst the Chinese housing bubble, which as a reminder was estimated by Goldman at the time as the world's single largest asset class (and bubble) at over $62 trillion, larger than both the US equity and bond markets…
… China unveiled the so-called "three red lines" policy, which sought to reduce developers' leverage, lower risk in the financial sector and make homes more affordable as part of President Xi Jinping's common prosperity push and practically meant that only companies that have very little debt (which basically meant nobody) were allowed to grow their debt at a max of 15%, and since most Chinese developers were in the 2 or 3 red lines category, it prohibited them from growing debt (a full breakdown of the three criteria is shown below),
The measures, which imposed strict debt and cash-flow targets on real estate firms, choked off liquidity for the highest-leveraged developers, contributing to the avalanche of defaults and construction halts that sparked mortgage boycotts and plunging sales across the nation.
The outcome result was the biggest shock for China's property sector, which quickly took down giant housing developer Evergrande and numerous of its undercapitalized peers, impoverished countless real estate billionaires (some say this was Xi's plan all along), sent home prices sliding and hammered household consumption across China's middle class, whose biggest asset – their home – was no longer appreciating at double digits every year and in fact was contracting for the first time in a decade.
So fast forward to today when just weeks after China's shocked the world with the speed and magnitude of its "covid-zero" reversal, Beijing – in its pursuit of a powerful, and generously credit funded, economic rebound appears set to unleash the full power of the country's real estate bubble because as Bloomberg reported overnight, "China is planning to relax restrictions on developer borrowing, dialing back the stringent "three red lines" policy that exacerbated one of the biggest real estate meltdowns in the country's history."
According to BBG sources, Beijing would allow "some property firms to add more leverage by easing borrowing caps", and push back the grace period for meeting debt targets set by the policy. The deadline could be extended by at least six months from the original June 30 date.
Such easing could mark "the most dramatic shift in China's real estate policy, adding to a clutch of measures issued since November to bolster the battered sector that accounts for about a quarter of the nation's economy." Indeed, within the span of just a few weeks, the government has softened its stance for sectors from chips and coal imports to internet platform businesses, underscoring Beijing's resolve to refocus on economic growth.
"This is a signal from the top regulators in an attempt to help restore market confidence in the real estate sector and create a positive feedback loop between the homebuyers, developers, and the physical market," said Zerlina Zeng, senior credit analyst at Creditsights Singapore LLC.
The news helped push China's property index higher by 1.5% and nearly 100% above its late October low when Chinese assets saw a widespread global liquidation amid covid zero fears and Xi's escalating crackdown on asset markets. Prices for China dollar high-yield notes, a sector dominated by property firms, have reached levels last seen in January 2022 at an average 75 cents on the dollar.
The offshore yuan surpassed its 200-day moving average for the first time since April after the news.
What does this policy reversal mean for China's property markets, and economy in general? Well, consider that with access to credit markets largely closed since 2020, developers had defaulted on more than 140 bonds in 2022, according to data compiled by Bloomberg. Overall, developers missed payments on a combined $50 billion in domestic and global debt based on issuance amount.
All of that is about to go into reverse.
In the meantime, however, China Evergrande Group, once the country's biggest developer and a poster child for the property crackdown, was labeled a defaulter in December 2021 after it missed payments on several bonds. Others followed suit, including Kaisa Group Holdings Ltd. and Sunac China Holdings. The defaults crushed what was once the most active and lucrative high-yield bond market in the world.
Fears of further contagion meantime weakened consumer confidence and roiled global investors who had long assumed the government would bail out the real estate titans. The crisis spooked buyers, driving home sales down by the most in at least two decades, while home prices declined for 15 straight months.
But now, very suddenly and unexpectedly, after almost two years of housing market pain Beijing is changing its stance. Under the new proposal, China will ease restrictions on debt growth for developers depending on how many red lines they meet. According to Bloomberg sources, companies that meet all three thresholds will no longer have borrowing caps and can use letter of guarantees from banks to pay land purchase deposits.
To be sure there had been vocal opposition to China's credit crackdown: as recently as last month, the head of a leading Chinese think tank had signaled Beijing needed to rethink what he called the mistaken "three red lines."
"Using such harsh policies toward the sector was a total mistake," said Yao Yang, dean of the National School of Development at Peking University, in an interview. "We had companies whose business was more or less healthy, but because of the "three red lines," their business became a problem."
As Bloomberg also notes, the policy reversal comes on the heels of a slew of directives aimed at reviving the housing sector, which accounts for as much as 70% of household assets in some parts of the country. The recent measures include:
Lower mortgage rates for first-home buyers if newly constructed house prices drop for three consecutive months
A nationwide cap on real estate commissions to boost demand
Allowing private equity funds to raise money for residential property developments
Pledging 200 billion yuan ($29 billion) in special loans to ensure stalled housing projects are delivered
A 16-point plan unveiled in November that ranged from addressing the liquidity crisis to loosening down-payment requirements for homebuyers
Officials have signaled further support. In an interview with Xinhua News Agency, China's housing minister Ni Hong pledged further efforts to take a "sound approach" to address the risk of "capital chain breaks" among developers, and steer the industry onto a "high-quality development path" in 2023.
The various easing measures have sparked a sharp rally in property stocks and bonds, boosting confidence in the sector as some of the stronger firms like Country Garden Holdings Co. regain access to credit and equity markets to pay debt and resume construction.
That said, the sweeping measures have yet to arrest the slump in China's housing sector, which has also been slowed by Covid lockdowns and more recently, a surge in virus cases. New home sales dropped 31% in December from a year earlier. Citigroup Inc. analysts including Griffin Chan expect sales to fall another 25% in 2023, as recovery will be constrained by reduced supply, and buyers' expectations will take time to turn around.
Finally, what China's reversal means for the rest of the world is that a tidal wave of new credit is about to be unleashed, and as a recent report in Economic Information Daily said, the amount of new credit China issues is likely to reach another record high this year, while interest rates for longer-term loans could decline further. In other words, prepare for a surge in Chinese Total Social Financing as Beijing finally ends its latest experiment with austerity and is finally set to unleash the biggest credit expansion in history.
And yes, it will be inflationary, which means that China – just like Putin before it – is about to control what happens in US capital markets because the last thing the Fed can do is stop hiking just as China is about to go into credit-funded overdrive.
Tyler Durden
Fri, 01/06/2023 – 14:20
ZeroHedge News
Donate To Address
Donate Via Wallets
Bitcoin
Ethereum
Dogecoin
Monero
Donate Bitcoin to The Bitstream
Scan the QR code or copy the address below into your wallet to send some Bitcoin to The Bitstream
Tag/Note:-
Send Bitcoin (BTC)
Donate Ethereum to The Bitstream
Scan the QR code or copy the address below into your wallet to send some Ethereum to The Bitstream
Tag/Note:-
Send Ethereum (ETH)
Donate Dogecoin to The Bitstream
Scan the QR code or copy the address below into your wallet to send some Dogecoin to The Bitstream
Tag/Note:-
Send Dogecoin (DOGE)
Donate Monero to The Bitstream
Scan the QR code or copy the address below into your wallet to send some Monero to The Bitstream
Tag/Note:-
Send Monero (XMR)
Please Add coin wallet address in plugin settings panel