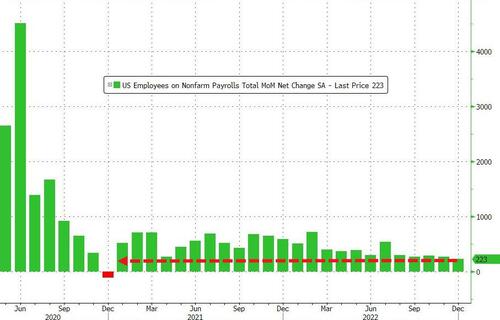 December Payrolls Beat Expectations But Wage Growth Disappoints, Lowest Since August 2021
There was a general sense of foreboding ahead of today's jobs report, because as we wrote in our payrolls preview, several strategists noted that there was virtually no number that would be good for risk assets. As Goldman trader John Flood said, "whispers into December's jobs print are creeping higher as we have already gotten 4 strong labor data points this week… We are still in a good data is bad for stocks set up but the new spin is that really bad data is also bad for stocks. AKA risk is skewed to the downside." Meanwhile Bloomberg's Heather Burke writes that the "median estimate for the change in non-farm payrolls is 202k versus a prior 263k and for the unemployment rate to stay steady at 3.7%. But the Fed's own estimate is for the unemployment rate to shoot up to 4.6% this year. Until we get there, there is not going to be an alignment of demand with supply, which will compel the Fed to stay hawkish with no chance of a pivot."
So with that in mind, here is what the BLS reported moments ago:
In December, payrolls rose 223K, which was down from last month's downward revised 256K and also the lowest since the negative December 2020 print, but was above the consensus estimate of 202K.
If payrolls were stronger than expected, the unemployment was especially hot, sliding from a downward revised 3.6% (was 3.7% previously) to 3.5%, the lowest since September, even as the unemployment rate for Blacks and Hispanics did not drop, even as white unemployment hit a record low.
The underemployment rate was also notably, sliding from 6.7% to 6.5%, a record low.
But the big outlier in today's report was not in jobs but in wages, as the average hourly earnings rose just 0.3% M/M in December, down from 0.6% previously (revised to 0.4%) and below the 0.4% expected. On an annual basis, hourly earnings rose just 4.6%, down from last month's 5.1%, which was also revised sharply lower to 4.8%. This was the slowest wage growth since August 21.
Developing
Tyler Durden
Fri, 01/06/2023 – 08:43
ZeroHedge News
Donate To Address
Donate Via Wallets
Bitcoin
Ethereum
Dogecoin
Monero
Donate Bitcoin to The Bitstream
Scan the QR code or copy the address below into your wallet to send some Bitcoin to The Bitstream
Tag/Note:-
Send Bitcoin (BTC)
Donate Ethereum to The Bitstream
Scan the QR code or copy the address below into your wallet to send some Ethereum to The Bitstream
Tag/Note:-
Send Ethereum (ETH)
Donate Dogecoin to The Bitstream
Scan the QR code or copy the address below into your wallet to send some Dogecoin to The Bitstream
Tag/Note:-
Send Dogecoin (DOGE)
Donate Monero to The Bitstream
Scan the QR code or copy the address below into your wallet to send some Monero to The Bitstream
Tag/Note:-
Send Monero (XMR)
Please Add coin wallet address in plugin settings panel