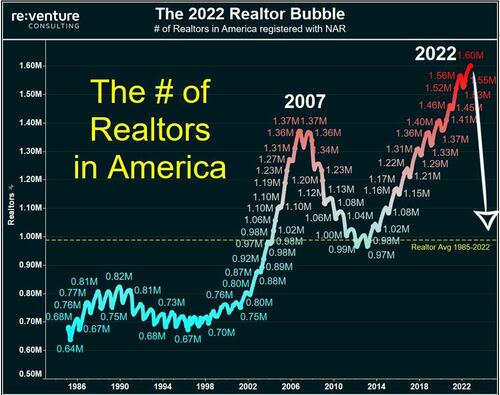 30% Of All Realtors Could Quit During Housing Crash
Concerns over plunging home sales leading to a real estate agent exodus could be an emerging trend in 2023. The number of agents has exceeded the peak of the mid-2000s boom, but one real estate consulting firm believes hundreds of thousands of agents could quit and find other jobs as turmoil plagues the interest rate-sensitive industry. 
Nick Gerli, CEO and founder of real estate Reventure Consulting, said, "30% of Realtors will likely quit during this Housing Crash. Once that happens, you'll know the bottom is approaching." He posted a chart on Twitter that shows there are currently 1.6 million registered real estate agents — that's higher than the 2007 bubble. 
Gerli forecasts at least 480,000 agents will exit the industry. He then posted a Home Sales/Total Realtors ratio only to show it's "even lower than the depths of the 2008 Housing Crash." This means the number of deals realtors are closing is sliding due to a worsening housing affordability crisis. 
"The Housing Bubble has popped, but the Bubble mentality has NOT. 1.6 Million Realtors are still "holding on," thinking the Housing Market will improve in 2023," Gerli said. 
He expects a wave of realtors to "inevitably quit in 2023 … and when they quit, it will likely coincide with investors/flippers/stubborn sellers "quitting" as well." He added: "And that's when you'll see inventory/listings really explode." 
Gerli reminds everyone this is the "biggest bubble ever in housing." 
We already pointed out months ago real estate agents should be on the hunt for new jobs as the Federal Reserve's most aggressive interest rate hikes and quantitative tightening is killing the demand side of the market. And, of course, real estate agents don't get paid when there are no buyers. There was even a report in October that many realtors couldn't pay their office rent. 
Realtors who were on top of the world during the easy money times and a housing boom during Covid bought fancy vehicles. Well, that fast money has already evaporated. 
$2,800 monthly payment 🥴 pic.twitter.com/pSTmK73U5q
— CarDealershipGuy (@GuyDealership) December 21, 2022
And if realtors are to leave the industry — don't worry about learning how to code — perhaps going back to bartending is a viable solution. 
Tyler Durden
Thu, 01/05/2023 – 20:00
ZeroHedge News
Donate To Address
Donate Via Wallets
Bitcoin
Ethereum
Dogecoin
Monero
Donate Bitcoin to The Bitstream
Scan the QR code or copy the address below into your wallet to send some Bitcoin to The Bitstream
Tag/Note:-
Send Bitcoin (BTC)
Donate Ethereum to The Bitstream
Scan the QR code or copy the address below into your wallet to send some Ethereum to The Bitstream
Tag/Note:-
Send Ethereum (ETH)
Donate Dogecoin to The Bitstream
Scan the QR code or copy the address below into your wallet to send some Dogecoin to The Bitstream
Tag/Note:-
Send Dogecoin (DOGE)
Donate Monero to The Bitstream
Scan the QR code or copy the address below into your wallet to send some Monero to The Bitstream
Tag/Note:-
Send Monero (XMR)
Please Add coin wallet address in plugin settings panel