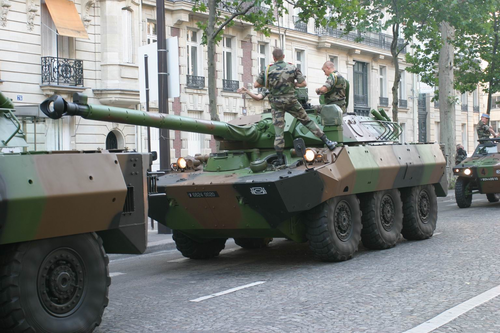 Macron Pledges 'First Western Tanks' To Ukraine While US Mulls Bradley Fighting Vehicles
French President Emmanuel Macron on Wednesday announced he intends to send 'light tanks' to Ukraine, which will make France the first to supply Western-manufactured tanks to the conflict, after some like Poland earlier transferred Soviet tanks. 
While NATO allies have gradually increased the sophistication of weaponry shipped to Kiev, including longer range missiles and more recently Patriot systems approved by the US, they have stopped short of sending either tanks or fighter jets, largely on fears of Moscow expanding the war in response.
"The president wanted to increase… aid" to Ukraine "by accepting to deliver AMX-10 RC light tanks" – a Macron aide told reporters following the French leader holding a call with Ukrainian President Volodymyr Zelensky.
AMX-10RC tank, via Wiki Commons
The AFP has described the French-made AMX-10 RC as an older light model tanks which the French infantry used in the 1980s, but has since been phased out. It is six-wheeled and not on tracks, thus it's sometimes called a "wheeled tank" – but has a powerful 105 mm gun on a turret. 
Among other medium and heavy equipment, France and other countries have already delivered armored personnel carriers to Ukraine, so this appears the next step up, perhaps paving the way to heavier more conventional tanks to match Russia's significant tank forces.
Previously, Poland and the Czech Republic have sent Soviet-era tanks to Ukraine, even as Western Europe and the US were reluctant. 
As for the United States, the Biden administration is mulling sending Bradley Fighting Vehicles to Ukrainian forces, with the president responding "yes" to a journalist's question Wednesday when asked about prior reporting… 
Scoop: Biden admin is discussing sending Bradley Fighting Vehicles to Ukraine, sources tell me and @AlbertoNardelli. "Bradleys would provide a major increase in ground combat capability because it is, in effect, a light tank," one analyst says.https://t.co/nYg4pRBPPR pic.twitter.com/DAmqxKmMhM
— Jennifer Jacobs (@JenniferJJacobs) December 29, 2022
Bloomberg was the first to report last week that "The US government is considering sending Bradley Fighting Vehicles to Ukraine as part of a further package of military support, according to people familiar with the matter."
"A final decision hasn't yet been made, one of the people said," the report said. "When the vehicles would be operational is also unclear, said the people, who spoke on condition of anonymity to discuss the sensitive issue." Biden on Wednesday officially confirmed the deliberations are underway.
Tyler Durden
Wed, 01/04/2023 – 21:05
ZeroHedge News
Donate To Address
Donate Via Wallets
Bitcoin
Ethereum
Dogecoin
Monero
Donate Bitcoin to The Bitstream
Scan the QR code or copy the address below into your wallet to send some Bitcoin to The Bitstream
Tag/Note:-
Send Bitcoin (BTC)
Donate Ethereum to The Bitstream
Scan the QR code or copy the address below into your wallet to send some Ethereum to The Bitstream
Tag/Note:-
Send Ethereum (ETH)
Donate Dogecoin to The Bitstream
Scan the QR code or copy the address below into your wallet to send some Dogecoin to The Bitstream
Tag/Note:-
Send Dogecoin (DOGE)
Donate Monero to The Bitstream
Scan the QR code or copy the address below into your wallet to send some Monero to The Bitstream
Tag/Note:-
Send Monero (XMR)
Please Add coin wallet address in plugin settings panel