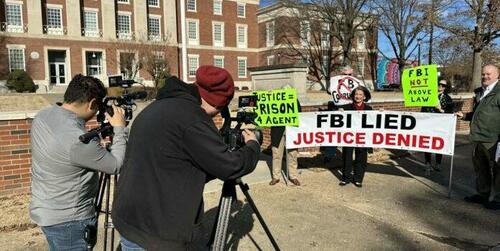 FBI Agent Who Destroyed Evidence To Indict GOP Sen. May Get Wrist-Slap
Authored by Ken Silva via Headline USA (emphasis ours),
With his sentencing scheduled for Thursday, disgraced FBI agent Robert Cessario seeks probation for illegally destroying evidence related to the prosecution of a former Republican Arkansas state senator—but critics say prison time is necessary to fight corruption in the federal justice system.
Connie Davies, pictured holding the 'FBI LIED' banner, participates in a rally in Arkansas on Tuesday to hold the FBI accountable for destroying evidence in its case against former state Sen. Jon Woods. / PHOTO: Courtesy of Connie Davies
Cessario's crime stems from the 2018 trial of former Arkansas state senator Jon Woods, a Republican, who was convicted of mail fraud and wire fraud charges and sentenced to roughly 18 years imprisonment. Woods was accused of participating in a scheme in which he accepted kickbacks in exchange for steering state grants to a small college in the state.
During discovering proceedings in the Woods trial, prosecutors ordered Cessario to turn over his laptop for a forensic examination. However, the former FBI agent lied to prosecutors, telling them he previously erased the laptop's hard drive. Then, prior to delivering the laptop for examination, he paid professionals to erase the laptop's hard drive.
Cessario was terminated from the FBI for his crime, and he pleaded guilty in August to destroying evidence related to the case against Woods.
Nevertheless, the Eighth District Court of Appeals upheld Woods's conviction, ruling that the "evidence of the conspiracy [against Woods] was overwhelming," despite the FBI's conduct.
Cessario faces up to 20 years in prison. Last month, his attorney argued for one year of probation in lieu of a prison sentence in a brief to U.S. District Judge P. K. Holmes III.
In his brief, Cessario's attorney cited the case of former FBI lawyer Kevin Clinesmith, who was sentenced to one year probation for altering evidence in the Russiagate investigation.
He also cited the case of former FBI agent William Tisaby, who received a suspended sentence of one year probation after pleading guilty earlier this year to tampering with evidence in the investigation of former Missouri Gov. Eric Greitens.
"Both the Clinesmith and the Tisaby cases involve conduct that is not only substantially similar with the conduct underlying this charge against Robert Cessario, but the conduct of each of these two defendants appears to be almost exactly in line with the conduct of the defendant Cessario," Cessario's attorney wrote in the Dec. 12 sentencing brief.
The U.S. government responded to Cessario's brief three days later, agreeing that probation is an appropriate sentence for the former FBI agent.
"The government has no evidence suggesting that the defendant had any reason for wiping the computer other than his expressed one, which was to remove sensitive personal and family information on the computer," prosecutors wrote in their Dec. 15 brief. "As such, the government concludes that a sentence of probation will accomplish the sentencing factors."
However, conservative activists are calling for Cessario to be incarcerated for his crime. Those activists, including Connie Davies and Patsy Wootton, held a rally Tuesday in Arkansas to demand justice against Cessario.
"If he gets away with this, what message are we sending to other FBI agents? What message are we sending to the American people who are held to a higher standard?" Davies told Headline USA in an interview following the rally. "If there's no consequence for this kind of action, we're in trouble."
Davies said the data Cessario erased from his laptop could have included exonerating evidence for Woods. She noted that even the Washington DC-based National Association of Criminal Defense Lawyers – not known for taking up conservative causes – has criticized Cessario's conduct in the Woods case as a gross violation of due process.
Davies said she finds it plausible that Woods was targeted by the FBI over his outspoken support of then-candidate Donald Trump. Woods was the only Arkansas elected official to support Trump during the 2016 Republican primaries.
Woods, who is serving his sentence at a minimum-security federal correctional institution in Texas, said his ordeal is part of God's plan.
"I did get steamrolled, but I prayed about it and I was overcome with peace to fight … When I began to stand up for myself, the agent on my case started to act strange and then broke the law," Woods said in a statement provided by Davies. "The agent will be sentenced Jan. 5. I do not know God's plan, but I do know I am where He wants me for the time being until something changes."
The FBI's sordid history of tampering with and destroying evidence dates back decades, as chronicled by authors John Kelly and Phillip Wearne in their book, "Tainting Evidence : Behind the Scandals at the FBI Crime Lab."  This book features interviews and records from former FBI crime-lab scientist Fred Whitehurst, who came out as a whistleblower in the 1990s about the bureau's mishandling of evidence.
Whitehurst revealed that the FBI mishandled evidence in prominent investigations into the Unabomber, O.J. Simpson, and the Oklahoma City bombing cases. The Department of Justice's Office of Inspector General found some of Whitehurst's key allegations to be substantiated in an April 1997 report.
Follow Ken Silva on Twitter.
Tyler Durden
Wed, 01/04/2023 – 22:05
ZeroHedge News
Donate To Address
Donate Via Wallets
Bitcoin
Ethereum
Dogecoin
Monero
Donate Bitcoin to The Bitstream
Scan the QR code or copy the address below into your wallet to send some Bitcoin to The Bitstream
Tag/Note:-
Send Bitcoin (BTC)
Donate Ethereum to The Bitstream
Scan the QR code or copy the address below into your wallet to send some Ethereum to The Bitstream
Tag/Note:-
Send Ethereum (ETH)
Donate Dogecoin to The Bitstream
Scan the QR code or copy the address below into your wallet to send some Dogecoin to The Bitstream
Tag/Note:-
Send Dogecoin (DOGE)
Donate Monero to The Bitstream
Scan the QR code or copy the address below into your wallet to send some Monero to The Bitstream
Tag/Note:-
Send Monero (XMR)
Please Add coin wallet address in plugin settings panel