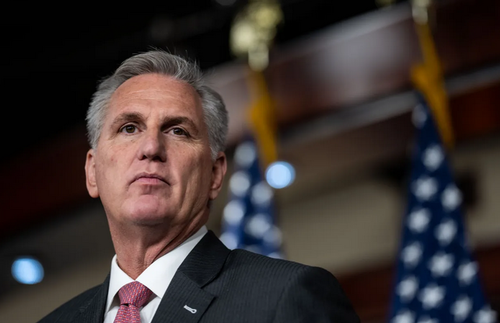 Day Three: McCarthy Caves On Concessions But Republican Holdouts Stand Ground
After two days of embarrassing defeat spanning six votes for Speaker of the House, Kevin McCarthy has offered his critics a mountain of new concessions before, during and after a round of Wednesday night negotiations, Politico reports.
The concessions include (via Politico): 
A one-member "motion to vacate": The GOP leader appears to have finally acquiesced to a demand to lower the threshold needed to force a vote ousting a speaker to just one member. While McCarthy originally indicated that restoring the one-member "motion to vacate" was a red line, his allies now argue that there's not a huge practical difference between this and his previous offer of requiring five members to trigger the vote.
Rules Committee seats for the Freedom Caucus: McCarthy is prepared to give the House Freedom Caucus two seats on the powerful House Rules Committee, which oversees the amendment process for the floor. (Some conservatives are still holding out for four seats on the panel.) There are also talks about giving a third seat to a conservative close to the Freedom Caucus but not in it — someone like Rep. Thomas Massie of Kentucky. Who would pick those members is still under discussion. Typically, it's the speaker's prerogative, but conservatives want to choose their own members for these jobs.
A vote on term limits: This is a key demand of Rep. Ralph Norman (R-S.C.), who has proposed a constitutional amendment limiting lawmakers to three terms in the House.
Major changes to the appropriations process: Fears of another trillion-plus-dollar omnibus spending bill have been a major driver of the conservative backlash to McCarthy. The brewing deal includes a promise for standalone votes on each of the 12 annual appropriations bills, which would be considered under what is known as an "open rule," allowing floor amendments to be offered by any lawmaker.
That said, according to Punchbowl News' Jake Sherman (formerly of Politico), there are still 20 'no' votes against McCarthy, who "may have to sit through a 7th speaker vote today that he's sure to lose."
According to Sherman, "negotiations between McCarthy and opponents have turned slightly positive," while the Speaker hopeful is trying to drive a wedge between Reps. Lauren Bobert and Matt Gaetz. That said, some of McCarthy's allies have suggested the drama could extend into next week before McCarthy either gets the job or backs down.
More from Sherman / Punchbowl regarding McCarthy's progress:
TO BE SURE: MCCARTHY is a long way away. but he finally had a sliver of good news yesterday
— Jake Sherman (@JakeSherman) January 5, 2023
Years of anger, distrust
As Bloomberg notes, the 20 GOP holdouts that are blocking McCarthy's bid to become Speaker comes from years of anger at party leadership and "deep suspicions of the veteran lawmaker."
The group opposing McCarthy's ascension to the top spot in the chamber have a list of grievances about House rules, anger over uniparty compromises with Democrats, and doubt over McCarthy's claim to be a true conservative.
"Mr. McCarthy has a history that is off-putting to some people," said Rep. Andy Biggs (R-AZ), one of the leaders of the revolt.
According to Rep. Scott Perry, chair of the conservative House Freedom Caucus, "It's not personal for us," adding "It's about the policies that come out of here."
"I'm not for the restrictive nature of this place where eight people run it and the rest of us just vote yes or no," Perry added, expressing frustration with a series of omnibus spending packages that Republicans have joined Democrats in jamming through the process, year after year.
Meanwhile, McCarthy foe Rep. Ralph Norman (R-SC) says there are 'trust' issues over McCarthy's past votes on spending packages.
"Could Kevin McCarthy all of a sudden morph into a fiscal conservative?" he asked.
Matt Gaetz of Florida, one of McCarthy's most vocal detractors, has made his opposition more personal, lambasting him as a creature of the Washington "swamp" who does the bidding of corporate lobbies.
"If you want to Drain the Swamp, you CANNOT put the biggest alligator in charge of the exercise!" he said in a fundraising email sent amid the speaker votes. "We're talking about someone who the corrupt DC special interests can always count on to be their lapdog."
McCarthy has made efforts to neutralize right-wing critics. He pulled himself close to former President Donald Trump after first criticizing him for his actions when a mob of his supporters stormed the Capitol on Jan. 6, 2021. -Bloomberg
Stay tuned for today's episode of 'nobody likes Kevin.'
Tyler Durden
Thu, 01/05/2023 – 09:22
ZeroHedge News
Donate To Address
Donate Via Wallets
Bitcoin
Ethereum
Dogecoin
Monero
Donate Bitcoin to The Bitstream
Scan the QR code or copy the address below into your wallet to send some Bitcoin to The Bitstream
Tag/Note:-
Send Bitcoin (BTC)
Donate Ethereum to The Bitstream
Scan the QR code or copy the address below into your wallet to send some Ethereum to The Bitstream
Tag/Note:-
Send Ethereum (ETH)
Donate Dogecoin to The Bitstream
Scan the QR code or copy the address below into your wallet to send some Dogecoin to The Bitstream
Tag/Note:-
Send Dogecoin (DOGE)
Donate Monero to The Bitstream
Scan the QR code or copy the address below into your wallet to send some Monero to The Bitstream
Tag/Note:-
Send Monero (XMR)
Please Add coin wallet address in plugin settings panel