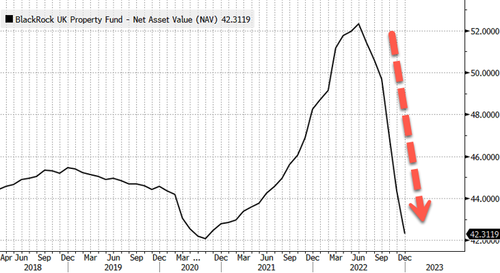 BlackRock Suspends Withdrawals Of £3.5 Billion UK Property Fund As REIT Contagion Worsens
Prominent asset managers are playing a giant game of whack-a-mole as a wave of redemptions hit multi-billion dollar property funds on either side of the Atlantic. Wealthy investors panic as high inflation and recession threats send fund valuations sliding. 
US fund manager BlackRock is the latest to suspend redemption requests from investors in its £3.5 billion ($4.2 billion) UK property fund. 
The world's largest asset manager told clients with money in the BlackRock UK Property Fund that it would defer redemption requests made at the end of September 2022 and due this month, according to Bloomberg, citing one person familiar with the matter. 
The open-ended UK real estate fund has been hit with a surge in demand for redemptions. The fund is only open to professional investors and is based out of New Jersey. There's been mounting concern that soaring interest rates and economic uncertainty will continue pressuring valuations lower. 
The net asset value of the fund has roundtripped Covid lows. 
Last September's mini-budget triggered chaos in the gilts market, forcing pension funds to sell assets. This led to three of the UK's largest property fund managers admitting they could not handle heavy demand from investors seeking to withdraw money. One of those funds that imposed restrictions on withdrawals was the BlackRock UK Property Fund. 
UK property funds also suspended redemptions during the Covid market turmoil in 2020 and Britain's referendum to leave the European Union in 2016. 
Besides BlackRock, Blackstone capped redemptions for its $68 billion Blackstone Real Estate Income Trust (BREIT) after high-net-worth investors panicked about the prospect of the fund losing value late last year. 
In simple terms, someone yelled 'fire in a crowded theater' as investors dashed to the exit… Thank the Fed. 
Blackstone was smart and gave the University of California's endowment a sweetheart deal to pour in $4 billion into BREIT — an attempt to restore confidence, or as we noted, a 'Buffett-style' bailout.
Perhaps BlackRock should contact UC Investments to see if they want exposure to UK property markets. 
Tyler Durden
Thu, 01/05/2023 – 05:45
ZeroHedge News
Donate To Address
Donate Via Wallets
Bitcoin
Ethereum
Dogecoin
Monero
Donate Bitcoin to The Bitstream
Scan the QR code or copy the address below into your wallet to send some Bitcoin to The Bitstream
Tag/Note:-
Send Bitcoin (BTC)
Donate Ethereum to The Bitstream
Scan the QR code or copy the address below into your wallet to send some Ethereum to The Bitstream
Tag/Note:-
Send Ethereum (ETH)
Donate Dogecoin to The Bitstream
Scan the QR code or copy the address below into your wallet to send some Dogecoin to The Bitstream
Tag/Note:-
Send Dogecoin (DOGE)
Donate Monero to The Bitstream
Scan the QR code or copy the address below into your wallet to send some Monero to The Bitstream
Tag/Note:-
Send Monero (XMR)
Please Add coin wallet address in plugin settings panel