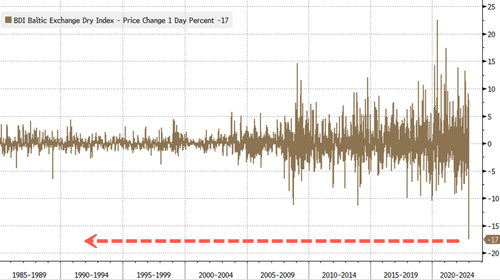 Baltic Index Crashes Most On Record As Recession Alarm Flashes
The Baltic Exchange's dry bulk sea freight index crashed on Tuesday in the worst decline on record, sinking on prospects of a global recession. 
Commodity Corner | Baltic Dry Index sees its biggest one-day decline since 1984. @Manisha3005 explains why pic.twitter.com/HcHFcGOsTT
— CNBC-TV18 (@CNBCTV18News) January 4, 2023
Baltic Dry Good Index is a measure of global shipping and economic health. The overall index, which tracks rates for capesize, panamax, and supramax shipping vessels carrying dry bulk commodities, plunged 17.5% to $1,250, the most significant daily decline since 1984. 
The drop comes days after International Monetary Fund Managing Director Kristalina Georgieva warned on CBS's 'Face the Nation' in an interview aired on Sunday that a third of the global economy will be in recession this year. 
Meanwhile, JPMorgan Global Composite PMI shows worldwide economic business conditions slid into contraction territory last August. 
Lumber, copper, and crude are three industrial commodities that send warning signals about impending global economic turmoil. All three are well off their highs. Looking at broad commodity indexes via Bloomberg, the peak in ag, energy, and industrial metals appeared to be last summer. 
With a gloomy economic outlook and flashing alarms from the world of shipping and commodities, recession risks are elevated this year as central bankers aggressively hike into a downturn. What could possibly go wrong?
Tyler Durden
Wed, 01/04/2023 – 18:25
ZeroHedge News
Donate To Address
Donate Via Wallets
Bitcoin
Ethereum
Dogecoin
Monero
Donate Bitcoin to The Bitstream
Scan the QR code or copy the address below into your wallet to send some Bitcoin to The Bitstream
Tag/Note:-
Send Bitcoin (BTC)
Donate Ethereum to The Bitstream
Scan the QR code or copy the address below into your wallet to send some Ethereum to The Bitstream
Tag/Note:-
Send Ethereum (ETH)
Donate Dogecoin to The Bitstream
Scan the QR code or copy the address below into your wallet to send some Dogecoin to The Bitstream
Tag/Note:-
Send Dogecoin (DOGE)
Donate Monero to The Bitstream
Scan the QR code or copy the address below into your wallet to send some Monero to The Bitstream
Tag/Note:-
Send Monero (XMR)
Please Add coin wallet address in plugin settings panel