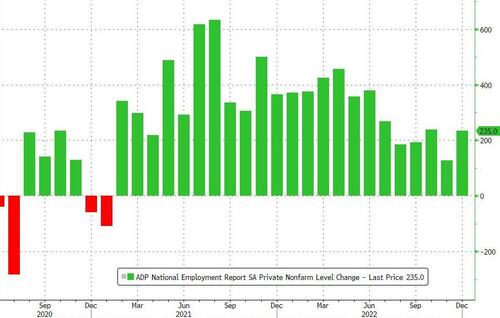 ADP Reports Big Jump In Jobs In December, Wage Growth Plunges
Following last month's big miss, analysts expected a modest uptick of 150k new jobs in today's ADP Employment Report, but instead – and frustrating for The Fed – ADP reports the addition of 235k jobs in December.
Source: Bloomberg
Job resurgence was seen in the last two months of 2022 led by consumer-facing service industries.
Hiring was strong across small and medium establishments while large establishments saw a drop in employment of 151,000 jobs.
Nela Richardson, Chief Economist at ADP, said that:
"The labor market is strong but fragmented, with hiring varying sharply by industry and establishment size. Business segments that hired aggressively in the first half of 2022 have slowed hiring and in some cases cut jobs in the last month of the year."
Perhaps of even more note – given its implications for inflation – December ushered in the largest decline in pay growth for job stayers in the three-year series history.
Leisure and hospitality; trade, transportation and utilities; and information sectors had the sharpest declines in pay gains.
Job changers' pay growth also fell to the lowest level in 10 months.
Finally, we note that ADP has under-forecast (fewer jobs added) the BLS numbers for 5 straight months…
Source: Bloomberg
This is not what Powell and his pals wanted to see at all!
Tyler Durden
Thu, 01/05/2023 – 08:21
ZeroHedge News
Donate To Address
Donate Via Wallets
Bitcoin
Ethereum
Dogecoin
Monero
Donate Bitcoin to The Bitstream
Scan the QR code or copy the address below into your wallet to send some Bitcoin to The Bitstream
Tag/Note:-
Send Bitcoin (BTC)
Donate Ethereum to The Bitstream
Scan the QR code or copy the address below into your wallet to send some Ethereum to The Bitstream
Tag/Note:-
Send Ethereum (ETH)
Donate Dogecoin to The Bitstream
Scan the QR code or copy the address below into your wallet to send some Dogecoin to The Bitstream
Tag/Note:-
Send Dogecoin (DOGE)
Donate Monero to The Bitstream
Scan the QR code or copy the address below into your wallet to send some Monero to The Bitstream
Tag/Note:-
Send Monero (XMR)
Please Add coin wallet address in plugin settings panel