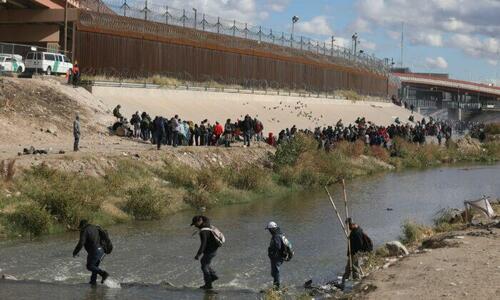 US Border Crisis Is A National Security Crisis: Former ICE Chief Tom Homan
Authored by Adam Michael Molon via The Epoch Times,
Tom Homan, former acting director of U.S. Immigration and Customs Enforcement (ICE), has criticized what he described as lax border security policies under the Biden administration, arguing that the surge in illegal immigration "is on purpose."
Homan, who served as head of ICE from 2017 to 2018, described the border crisis as one that amounted to public safety, public health, and national security crises.
"What's behind the scenes?" Homan told The Epoch Times in an interview.
"People are going to say, 'Okay, illegal aliens are crossing the border. They say they're going to send them to see the judge.' There's more to this. What's the ugly underbelly of this?"
An October op-ed co-authored by Homan and Mark Morgan, who served as acting commissioner of US Customs and Border Protection (CBP) from 2019 to 2021 noted, "In just 18 months, Customs and Border Protection has recorded more than 4 million apprehensions— more than the previous four fiscal years combined. The encounters since last October have totaled more than 2.7 million, plus nearly 600,000 known got-aways and likely hundreds of thousands who entered completely undetected."
"They've arrested 114 known and suspected terrorists who tried to get into the country since Joe Biden's been in the White House … Border Patrol's arrested people from 161 countries, [and] some of those countries sponsor terrorism," Homan told The Epoch Times.
"Since Joe Biden's taken office, there's a recorded over 1 million got-aways based on camera traffic, drone traffic, sensor traffic. Recorded got-aways. So, if they arrest 114, how many of that 1 million came from a country that sponsors terrorism and is coming to do us harm?"
He added, "Sadly, I think it's going to take a national security incident to wake them up."
Tom Homan, former acting ICE director, at a press conference in Anzalduas Park in Mission, Texas, on March 30. 2021. (Charlotte Cuthbertson/The Epoch Times)
'On Purpose'
Homan believes that the border crisis "is on purpose," and has been caused by policies formulated by the Department of Homeland Security (DHS) under Secretary Alejandro Mayorkas and the Biden administration.
"[Secretary Mayorkas] has the same data I have," said Homan, who previously served as the head of ICE's Enforcement and Removal Operations during the Obama administration, before being named head of ICE by then-President Donald Trump.
"When [Mayorkas] was a deputy secretary [at DHS] in 2014, 2015 under Obama, he was deputy secretary under [then-DHS secretary] Jeh Johnson. When we had a thousand entrants a day, Jeh Johnson called us all and said, 'What the hell's going on? This is a bad day.' A thousand.
"Now they've got seven, eight thousand and [Mayorkas is] saying the border's secure."
"How did we stop it in 2014, 2015? We built detention facilities. We held [illegal aliens] long enough to see a judge. 90 percent lost, we put them on an airplane and sent them home, boarding them as well," Homan added.
"[Mayorkas] was the deputy secretary back then, he knew what we did. Now he's the secretary. What is he doing now? He's not using detention facilities, he's shutting them down. They're releasing [illegal aliens]. Many of them are released without even a court date, so they're not seeing a judge … He's doing the complete opposite of what worked in 2014, 2015."
"This isn't mismanagement, this isn't incompetence. This is on purpose," Homan alleged.
DHS, ICE, and the White House did not return requests for comment.
For his part, Mayorkas has maintained that the border is secure and defended the department's record amid the record illegal border crossings.
"The immigration system, our laws, have not been reformed for more than 40 years. The problem from administration to administration, regardless of party, is the fact that we are fundamentally working within a broken immigration system, and that is the foundational challenge, with respect to the border," the secretary said in early December.
Mayorkas said DHS was working to improve the efficiency of processing illegal aliens.
"We are devoting tremendous resources to address the border in a way that achieves its security and upholds its values," Mayorkas said. "We are modernizing our systems at the border to expedite processing, bringing greater efficiency to it. We are intensely focused on this mission set, just as we are intensely focused on the mission sets that we confront as a department from top to bottom."
A U.S. Border Patrol agent instructs immigrants who had crossed the Rio Grande into El Paso, Texas, as seen from Ciudad Juarez, Mexico, on Dec. 19, 2022. (John Moore/Getty Images)
'Political Power'
A native of West Carthage, New York, Homan served as a police officer in his hometown and became a border patrol agent in 1984 before rising to become head of ICE three decades later.
"I was the first ICE director who actually came up through the ranks," said Homan, who is a visiting fellow at The Heritage Foundation, a conservative think tank, and authored the book "Defend the Border and Save Lives: Solving Our Most Important Humanitarian and Security Crisis." "So when I commanded ICE, I didn't ask any of the 20,000 men and women who worked for me to do anything that I didn't do myself as an agent."
As head of ICE's Enforcement and Removal Operations, Homan received the 2015 Presidential Rank Award for Distinguished Service, the country's highest civil service award. In June 2018, the month that he retired from ICE, Homan received the Distinguished Service Medal from then-President Trump, and in January 2021 was awarded the National Security Medal by Trump in the Oval Office "for distinguished achievement in the field of national security through exceptionally meritorious service."
Homan pointed to expectations that illegal aliens will one day vote for Democrats as a factor driving accommodative immigration enforcement policies under the Biden administration, saying, "it's all about future political power."
"They truly believe [illegal aliens] are future Democratic voters, number one, and number two, they certainly perceive a future political benefit. Because remember, President Biden also overturned Trump's census rule," Homan said.
"Now illegal aliens will be counted in the census. So look, already five million have crossed the border [during the Biden administration] … many will flock to sanctuary cities that are protected, which are going be counted in that jurisdiction, which will result in more seats for the Dems."
On his first day in office, President Joe Biden issued an executive order revoking a 2020 memorandum issued by President Trump that would have excluded illegal aliens from states' apportionment bases for congressional representation following the 2020 Census.
Homan said that  "millions of Americans … don't even realize there's a crisis on the border," and pointed to a need for citizens to become better informed and educated on this issue.
"I'll say it a thousand times, regardless of what your opinion is on illegal immigration, when you create a crisis this big, you create a public safety crisis, a public health crisis, and a national security crisis," he said.
"You can't turn a blind eye to it."
U.S. Homeland Security Secretary Alejandro Mayorkas answers a reporter's question during a news conference with Mexican counterparts at the State Department in Washington on Oct. 13, 2022. (Chip Somodevilla/Getty Images)
Releasing Illegal Aliens
Homan criticized the administration's "alternatives to detention" (ATD) program, colloquially known as "catch and release," under which the majority of illegal aliens are released into the country while they await their court dates.
"Not only are they letting [illegal aliens] in, they're setting them up so they'll never be removed because they're not in custody," Homan said.
There are currently about 378,000 illegal aliens under the ATD program, according to ICE's latest statistics. Most of them, about 290,000, are monitored by ICE through an app known as SmartLINK. Nearly 70,000 are not monitored by any technology, while 16,000 are monitored through telephone calls, and nearly 7,000 are monitored by GPS.
ICE says that ATD "effectively increases court appearance rates, [and] compliance with release conditions." Mayorkas has characterized such policies as part of an effort by the administration to ensure the more humane processing of illegal aliens.
A 2022 report by the U.S. Government Accountability Office annalyzing the ATD program from 2015 to 2020, found that about a quarter of the illegal aliens placed in the program absconded, or fled the address at which they were staying "and could not be located," including 33 percent in fiscal year 2020, which stretched across the Trump and Biden administrations.
Homan said that while large numbers of illegal aliens are being released into the United States, "there's thousands of beds right now in ICE's inventory" available for use in the detention of illegal aliens "that are empty, already paid for."
According to a 2020 DHS Enforcement Lifecycle Report (pdf), illegal aliens encountered in 2014 to 2019 who were held in DHS custody for the entire time until court proceedings were repatriated 98 percent of the time. Only 0.5 percent received court orders allowing them to stay in the United States. One percent of those continuously detained illegal aliens received removal orders from the court that were not executed by ICE.
The report noted that in contrast, illegal aliens who were never detained were repatriated 30 percent of the time. Meanwhile, 15 percent received court orders allowing them to stay, while 55 percent of the cases were unresolved at the time of the report's publication.
"The detention pattern yielding the greatest share of unresolved cases were encounters initially placed in detention but then released prior to a final enforcement outcome," the report added.
"These 'partially detained' encounters resulted in repatriations just 3 percent of the time and relief just 12 percent of the time, with 85 percent still unresolved, including 18 percent with unexecuted removal orders."
"They know this," Homan said. "They know most [illegal aliens] will lose their case, because based on the immigration court data, and they know based on the Homeland Security Lifecycle Report, if [illegal aliens are] not detained, they won't be removed at all … That's why they're releasing them."
He added, "No one's talking about this…if the American people knew … I think a lot of people sit at home and say, 'Well, if [illegal aliens] lose their case they'll be ordered removed and ICE will be able to remove them.' No they can't. Because they won't find them."
Tyler Durden
Tue, 01/03/2023 – 21:40
ZeroHedge News
Donate To Address
Donate Via Wallets
Bitcoin
Ethereum
Dogecoin
Monero
Donate Bitcoin to The Bitstream
Scan the QR code or copy the address below into your wallet to send some Bitcoin to The Bitstream
Tag/Note:-
Send Bitcoin (BTC)
Donate Ethereum to The Bitstream
Scan the QR code or copy the address below into your wallet to send some Ethereum to The Bitstream
Tag/Note:-
Send Ethereum (ETH)
Donate Dogecoin to The Bitstream
Scan the QR code or copy the address below into your wallet to send some Dogecoin to The Bitstream
Tag/Note:-
Send Dogecoin (DOGE)
Donate Monero to The Bitstream
Scan the QR code or copy the address below into your wallet to send some Monero to The Bitstream
Tag/Note:-
Send Monero (XMR)
Please Add coin wallet address in plugin settings panel