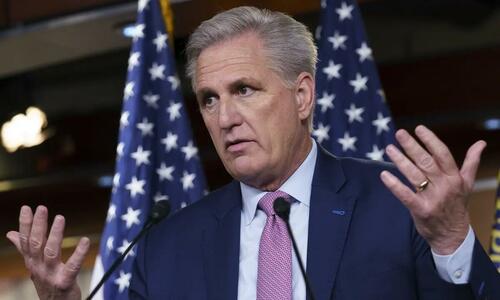 McCarthy Scrambles As House GOP In Crisis; Trump Endorses On 'Truth'
After yesterday's chaos at the House, which saw support for Rep. Kevin McCarthy's (R-CA) increasingly wane throughout three failed votes for Speaker, the House begins Wednesday in a state of crisis.
Roughly 10% of the Republican conference has voted against McCarthy, leaving him 16 votes shy of a win.
As such, no Speaker means no committees, and no rules. As Punchbowl News notes, "There are members-elect, but the chaos Tuesday prevented any lawmakers from being officially sworn in. Nothing resembling this has occurred in more than a century."
Indeed, McCarthy appears to be on the ropes – with 20 GOP lawmakers sitting staunchly opposed to the California lawmaker, led by Reps. Matt Gaetz (FL), Chip Roy (TX) and Scott Perry (PA).
On Tuesday night, Roy appeared on Fox News' "Ingraham Angle' where he accused McCarthy of rejecting a list of conservative demands regarding committee assignments.
"[McCarthy] turns around and he lies about us. Then he has [Alabama Rep.] Mike Rogers stand up and talk about kicking us off committees. He just burned himself. He just solidified 15 or 20 [members] who were against him," he said.
.@chiproytx: "When the leadership actually votes with the…Democrats to steamroll Republicans, which is the past history of our Republican leadership, then MAYBE we should do something different." pic.twitter.com/5Sy63o9FH9
— Daily Caller (@DailyCaller) January 4, 2023
McCarthy is scrambling – having dispatched top emissaries late Tuesday to begin negotiating with the group of 20 dissenters. Key allies include Reps. Patrick McHenry (NC), French Hill (AR), Garret Graves (LA.), Brian Fitzpatrick (PA) and Guy Reschenthaler (PA), who McCarthy hopes can convince his detractors to flip.
More via Punchbowl News;
These McCarthy allies were also instructed to share the conservatives' demands with the entire conference. McHenry, a top leadership lieutenant during the Trump presidency, told us this about his task:
"Everyone needs to be on the same page about what the needs are for rules and structural changes so we can have Speaker McCarthy elected [Wednesday]."
Elect a speaker today? We're not so sure that will happen.
McHenry is one of the smartest inside players in the House and a potential speaker should McCarthy falter. He and the rest of the McCarthy emissaries are working to socialize exactly what the conservatives want so everyone can "come to terms with getting the 20 [no votes] on board."
There is a lot of horse-trading going on right now. Or, as McHenry put it:
"In a legislative institution, all the gifts of the institution are available when you have a moment like this… It can look as shambolic as you want it to look for as long as possible, but it still gets resolved."
One of the keys here is that it's not only McCarthy and his top aides involved in the talks now – it's a wider swath of members with different skills and different relationships. The conservatives have a lot of scar tissue with McCarthy. Widening the circle could help with reaching an accord.
Meanwhile, former President Trump (whose conduct on January 6 McCarthy called "atrocious and totally wrong," and that he was "inciting people") gave McCarthy an ALL CAPS ENDORSEMENT, posting to Truth Social;
"Some really good conversations took place last night," adding "and it's now time for all of our GREAT Republican House Members to VOTE FOR KEVIN, CLOSE THE DEAL, TAKE THE VICTORY, & WATCH CRAZY NANCY PELOSI FLY BACK HOME TO A VERY BROKEN CALIFORNIA."
"Kevin McCarthy will do a good job, and maybe even a GREAT JOB – JUST WATCH!" Trump continued, apparently forgiving Kevin for joking in 2016 that Putin was 'paying Trump.'
Will Trump's endorsement speak to Biggs, Gaetz or Chip Roy?
Not likely.
"If you want to drain the swamp, you cannot put the biggest alligator in charge of the exercise," Gaetz said on Tuesday.
Trump's biggest weakness was who he picked for key positions during his Presidency.
— Wall Street Silver (@WallStreetSilv) January 4, 2023
If you want absolutely nothing to change in Washington and nothing to get done, McCarthy's your man @GOP
— Kyle Becker (@kylenabecker) January 4, 2023
Tyler Durden
Wed, 01/04/2023 – 10:25
ZeroHedge News
Donate To Address
Donate Via Wallets
Bitcoin
Ethereum
Dogecoin
Monero
Donate Bitcoin to The Bitstream
Scan the QR code or copy the address below into your wallet to send some Bitcoin to The Bitstream
Tag/Note:-
Send Bitcoin (BTC)
Donate Ethereum to The Bitstream
Scan the QR code or copy the address below into your wallet to send some Ethereum to The Bitstream
Tag/Note:-
Send Ethereum (ETH)
Donate Dogecoin to The Bitstream
Scan the QR code or copy the address below into your wallet to send some Dogecoin to The Bitstream
Tag/Note:-
Send Dogecoin (DOGE)
Donate Monero to The Bitstream
Scan the QR code or copy the address below into your wallet to send some Monero to The Bitstream
Tag/Note:-
Send Monero (XMR)
Please Add coin wallet address in plugin settings panel