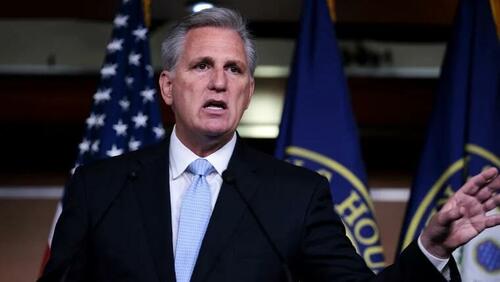 "This Is Bulls**t": McCarthy Bid For House House Speaker Devolves Into Chaos
Rep. Kevin McCarthy (R-CA) gave a Tuesday morning speech imploring fellow Republicans to elect him as Speaker of the House, as several notable members of the GOP have openly opposed McCarthy.
According to Axios, McCarthy has given hardliners nearly everything they've asked for, however he still hasn't secured enough votes for the position, meaning that for the first time in 100 years, the House will likely hold multiple ballots for the speaker.
In his Tuesday speech, McCarthy listed all the concessions he's made to the right, and pointed out that Rep. Matt Gaetz (R-FL) praised elements of his rules package. Gaetz, notably, has spearheaded the anti-McCarthy movement within the chamber.
Gaetz, of course, has been rallying support against McCarthy. https://t.co/JcxS2Wx5sU
— Jake Sherman (@JakeSherman) January 3, 2023
"I've earned this job," said McCarthy, after running through everything he's done to become speaker – to which Rep. Chip Roy (R-TX) reportedly shook his head, according to Punchbowl News' Jake Sherman.
"This is bullshit," said Rep. Lauren Boebert (R-CO) in response to McCarthy's speech.
.@mkraju just dropped a "bullshit" on CNN pic.twitter.com/53xj9p4VCE
— Aaron Rupar (@atrupar) January 3, 2023
In December, Gaetz said he wouldn't vote for McCarthy because he's "just a shill of the establishment."
I'm not voting for Kevin McCarthy for Speaker because he's just a shill of The Establishment.
The reason most of my Republican colleagues are supporting him is because they benefit from the redistribution of lobbyist & special interest money from McCarthy to their campaigns. pic.twitter.com/bdJmjwy6W7
— Rep. Matt Gaetz (@RepMattGaetz) December 27, 2022
McCarthy also got into an argument with Rep. Perry, who accused McCarthy of having no track record on spending bills.
Perry & McCarthy got in a heated back and forth, even raising their voices-
Perry accused McCarthy of not having a track record on spending bills "You have no track record."
McCarthy asked Perry what he is still fighting for
— Annie Grayer (@AnnieGrayerCNN) January 3, 2023
McCarthy's supporters chime in:
In addition to Rep. Marjorie Taylor Greene (R-GA), McCarthy has the support of neocon Dan Crenshaw (R-TX), who has called McCarthy's detractors "enemies" and "narcissists."
"They are enemies now. They have made it clear that they prefer a Democrat agenda than a Republican," Crenshaw told CNN's Manu Raju.
"This handful of members is very clearly looking for notoriety over principle. That's what it is. And anyone who suggests differently is in some kind of make believe fantasy reality. It's not, it's not true," he continued, adding "They lost those debates."
"That should have been the end of it because that's how a team works, right? But if you're a narcissist, … then you'll keep going. And you'll threaten to tear down the team for the benefit of the Democrats just because of your own sense of self importance."
"We will not vote for anyone else but McCarthy," Crenshaw said. "These people think they're stubborn, we're more stubborn."
— Manu Raju (@mkraju) January 3, 2023
Another McCarthy supporter, Mike Rogers (R-AL), said the GOP should bar McCarthy dissenters from getting committee slots – an idea Chip Roy didn't like. 
CHIP ROY and MCCARTHY just got into it. @chiproytx Roy said he tried to negotiate on rules. McCarthy thanked him for handling it respectfully and said Roy should say yes more.
— Jake Sherman (@JakeSherman) January 3, 2023
Here's Roy in December explaining the situation;
According to Axios, this could become a war of attrition in which "[a] good number of pro-McCarthy House Republicans are hoping some of the holdouts are bluffing and looking for a show — and will ultimately get worn down enough during the process to cave for McCarthy."
Do you remember who made a formal nomination speech in support of KEVIN McCARTHY to be SPEAKER OF THE HOUSE on January 3, 2019?
*****It was your new best friend LIZ CHENEY*****
And now you know why Kevin McCarthy did not get a criminal referral to DOJ from the @January6thCmte!! pic.twitter.com/vhYmQEoWLV
— Don Winslow (@donwinslow) January 3, 2023
The likely candidate to replace McCarthy, in the unlikely event he pulls out, is Rep. Steve Scalise (R-LA), who said he won't run against McCarthy but has been quietly preparing for this scenario.
It doesn't look like McCarthy is too worried…
GOP Leader McCarthy has moved into the speakers suite but if he fails to secure 218 he will have to move all his stuff back out ⁦@AllieRaffa⁩ pic.twitter.com/Lb2swMgQ2p
— Haley Talbot (@haleytalbotnbc) January 2, 2023
Tyler Durden
Tue, 01/03/2023 – 10:45
ZeroHedge News
Donate To Address
Donate Via Wallets
Bitcoin
Ethereum
Dogecoin
Monero
Donate Bitcoin to The Bitstream
Scan the QR code or copy the address below into your wallet to send some Bitcoin to The Bitstream
Tag/Note:-
Send Bitcoin (BTC)
Donate Ethereum to The Bitstream
Scan the QR code or copy the address below into your wallet to send some Ethereum to The Bitstream
Tag/Note:-
Send Ethereum (ETH)
Donate Dogecoin to The Bitstream
Scan the QR code or copy the address below into your wallet to send some Dogecoin to The Bitstream
Tag/Note:-
Send Dogecoin (DOGE)
Donate Monero to The Bitstream
Scan the QR code or copy the address below into your wallet to send some Monero to The Bitstream
Tag/Note:-
Send Monero (XMR)
Please Add coin wallet address in plugin settings panel