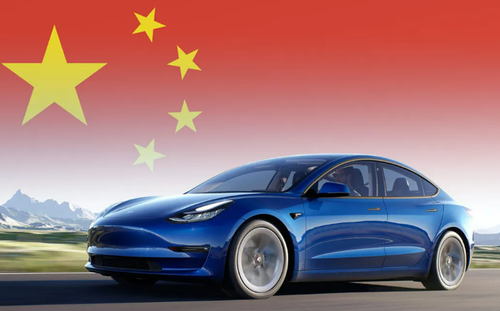 Tesla Kicks Off 2023 By Continuing 10,000 Yuan Sales Incentives In China
It was an ugly end to 2022 for Tesla shares, to say the least. The automaker fell 37% alone in the month of December, due to fears about Elon Musk's additional time commitments at Twitter and concerns about demand for vehicles drying up.
And it looks as though Tesla will begin 2023 by, in part, validating some concern about demand. The automaker is set to open the year in China by extending incentive offers aimed at generating sales in China, according to Bloomberg.
Bloomberg reported this weekend that Model 3 sedan and Model Y sport utility vehicle buyers will get 10,000 yuan in incentives (about $1,450) if they take delivery by February 28, 2023, per Tesla's website.
The automaker is offering a 6,000 yuan subsidy it began early in December, in conjunction with a 4,000 yuan subsidy that is "tied to purchasing insurance through Tesla" and that was started in November 2022, Bloomberg wrote. 
Tesla is also looking to stoke sales in the U.S., offering $7,500 off all of its major models. Delivery numbers for Q4 were announced this morning and missed Wall Street's expectations. 
Tesla was down 45% in December before an Adam Jonas note from Morgan Stanley encouraged buying in the waning days of the month.  He lowered his price target on Tesla from $330 to $250, but maintained his overweight rating on the name and argued that the recent selloff had created an "opportunity".
"We believe 2023 is shaping up to be a 'reset' year for the EV market where the last 2 years of demand exceeding supply will be substantially inverted to supply exceeding demand. Within this environment, we believe players that are self-funded (non-reliant on external capital funding) with demonstrated scale and cost leadership throughout the value chain (from manufacturing to up-stream material supply) can be relative winners," Jonas wrote.
"We believe Tesla may bein position to extend its lead vs. the EV competition in FY23 (both legacy and start-up) even before consideration of IRA (Inflation Reduction Act) benefits where Tesla also stands out as the biggest potential winner," he continued. 
Jonas is convinced that among peers, Tesla is one of the best suited to handle the macro headwinds, writing: "On a relative basis, the reiteration of our OW rating must be seen vs. more challenged EV-related peers such as EW-rated Fisker (FSR), UW-rated Lucid (LCID),and UW-rated QuantumScape (QS). Between a worsening macro backdrop, record high unafforability,and increasing competition, there are hurdles to overcome. Yet we do believe that in the face of all these pressures, TSLA will widen its lead in the EV race, as it leverages its cost and scale advantages to further itself from the competition."
Tyler Durden
Mon, 01/02/2023 – 20:05
ZeroHedge News
Donate To Address
Donate Via Wallets
Bitcoin
Ethereum
Dogecoin
Monero
Donate Bitcoin to The Bitstream
Scan the QR code or copy the address below into your wallet to send some Bitcoin to The Bitstream
Tag/Note:-
Send Bitcoin (BTC)
Donate Ethereum to The Bitstream
Scan the QR code or copy the address below into your wallet to send some Ethereum to The Bitstream
Tag/Note:-
Send Ethereum (ETH)
Donate Dogecoin to The Bitstream
Scan the QR code or copy the address below into your wallet to send some Dogecoin to The Bitstream
Tag/Note:-
Send Dogecoin (DOGE)
Donate Monero to The Bitstream
Scan the QR code or copy the address below into your wallet to send some Monero to The Bitstream
Tag/Note:-
Send Monero (XMR)
Please Add coin wallet address in plugin settings panel