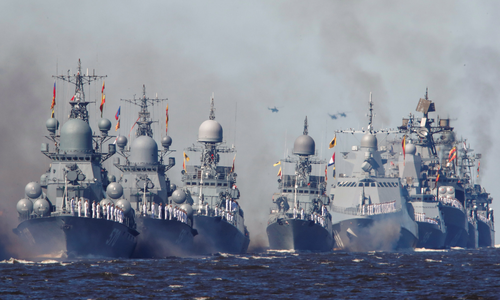 Russia Says Peace Treaty Talks With Japan "Impossible" Over "Unfriendly" Ukraine Stance
The Kremlin has announced that Japan's "anti-Russian course" means that peace treaty talks remain "impossible" at this point, according to the words of a senior Russian foreign ministry official quoted in TASS.
"It is absolutely obvious that it is impossible to discuss the signing of such a document [a peace treaty] with a state that takes openly unfriendly positions and allows itself direct threats against our country," the official said.
Russian warships in a 2020 Navy Day parade, via Reuters.
The two countries have long been locked in a standoff regarding competing territorial claims over islands off northern Japan, disputed since the end of WWII, but which have come under increasing militarization by Russia.
For example, Russian forces have just in the last month deployed new missile defense systems in the disputed Kuril Islands, as part of what looks to be a semi-permanent forward positioning of troops, specifically a mobile coastal defense missiles system on a northernmost island in the chain, Paramushir.
Russia knows the island chain as the Kurils while Japan calls them the Northern Territories. Russia has long been denounced by Japan and its allies in the West for sending military assets there.
The Soviet Union had annexed the islands during the final days of WWII, and the status of ownership of the islands, which Russia de facto currently controls, is still unresolved and as a treaty regarding their status has been subject of on-again, off-again negotiations with President Putin. 
As for the fresh Kremlin statement on Japan's "unfriendly positions" which make negotiations "impossible" – this appears a reference to Japan joining the Western initiative to impose sweeping sanctions on Russia over its invasion of Ukraine. 
Tokyo has also moved to cut its dependence on Russian oil and coal exports over the past months. In November Russia's ambassador to Japan lashed out at both Tokyo and Washington while describing that "The unfriendly action from the Japanese side unfortunately worsened our relations greatly. And now the future of our relation is uncertain."
Tyler Durden
Tue, 01/03/2023 – 12:08
ZeroHedge News
Donate To Address
Donate Via Wallets
Bitcoin
Ethereum
Dogecoin
Monero
Donate Bitcoin to The Bitstream
Scan the QR code or copy the address below into your wallet to send some Bitcoin to The Bitstream
Tag/Note:-
Send Bitcoin (BTC)
Donate Ethereum to The Bitstream
Scan the QR code or copy the address below into your wallet to send some Ethereum to The Bitstream
Tag/Note:-
Send Ethereum (ETH)
Donate Dogecoin to The Bitstream
Scan the QR code or copy the address below into your wallet to send some Dogecoin to The Bitstream
Tag/Note:-
Send Dogecoin (DOGE)
Donate Monero to The Bitstream
Scan the QR code or copy the address below into your wallet to send some Monero to The Bitstream
Tag/Note:-
Send Monero (XMR)
Please Add coin wallet address in plugin settings panel