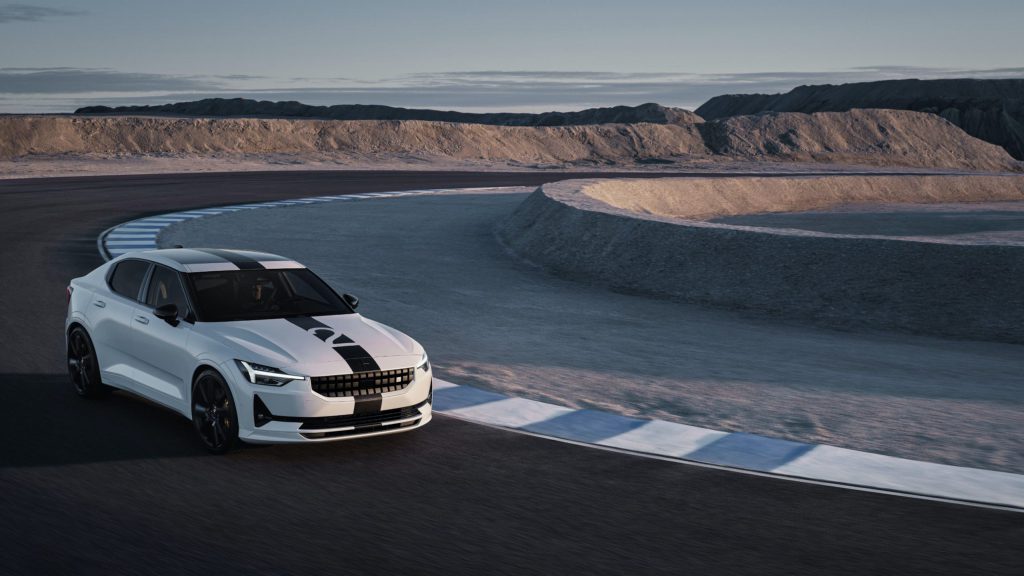 Polestar has posted a video online showing off the hot new Polestar 2 BST 270 on track.
For those who are unfamiliar with the Polestar brand, it got its start back in the mid-90s as a Volvo performance modification garage. But after the company gained critical claim, Volvo purchased the company and began to integrate Polestar versions of vehicles into its lineup. Now, as Polestar has established itself as an automaker of its own, it offers performance versions of its own vehicles, and today it has shown off one of them on track.
The Polestar 2 BST 270 is a limited edition variant of the Polestar 2 sedan, of which only 270 units will be made. The vehicle is a highly modified version of the original EV sedan, which has become a cult classic here in the United States.
The BST 270 starts with a Polestar 2 Long Range AWD and radically improves its handling and power output. The sport sedan produces 476 horsepower via an all-wheel-drive dual-motor setup, is good for a 4.2 second 0-60, and comes with a performance-focused software update that "enhances the powertrain's responsiveness."
While the BST 270's performance is nothing to scoff at, it is clear that Polestar spent the most time improving the handling of the vehicle. As pointed out in the video, the car has been dropped by 25mm (0.98in) via a set of 2-way adjustable Ohlins dampers, the chassis has been stiffened via an aluminum front strut bar, the vehicle's stopping power has been increased via a custom set of larger calipers and disks, and the vehicle comes with some sticky Parelli P-Zero performance tires.
For the more design-attuned customers, the BST 270 is available in a new set of exterior color options and an optional race-inspired livery. While the interior retains its classic conservative Polestar design, it does so with more bolstering to help keep you in your seat.
It's clear that the BST 270 is not out to break any land speed records, but with an impressive set of suspension and braking upgrades, it may just be the "sleeper" you are looking for. With it, Polestar is continuing its long tradition of performance vehicles, and I, for one, am excited to see that continue.
What do you think of the article? Do you have any comments, questions, or concerns? Shoot me an email at william@teslarati.com. You can also reach me on Twitter @WilliamWritin. If you have news tips, email us at tips@teslarati.com!
The post Polestar shows off new performance model on track appeared first on TESLARATI.
News, Video, Featured, Polestar, Polestar 2 BST 270
TESLARATI
Donate To Address
Donate Via Wallets
Bitcoin
Ethereum
Dogecoin
Monero
Donate Bitcoin to The Bitstream
Scan the QR code or copy the address below into your wallet to send some Bitcoin to The Bitstream
Tag/Note:-
Send Bitcoin (BTC)
Donate Ethereum to The Bitstream
Scan the QR code or copy the address below into your wallet to send some Ethereum to The Bitstream
Tag/Note:-
Send Ethereum (ETH)
Donate Dogecoin to The Bitstream
Scan the QR code or copy the address below into your wallet to send some Dogecoin to The Bitstream
Tag/Note:-
Send Dogecoin (DOGE)
Donate Monero to The Bitstream
Scan the QR code or copy the address below into your wallet to send some Monero to The Bitstream
Tag/Note:-
Send Monero (XMR)
Please Add coin wallet address in plugin settings panel