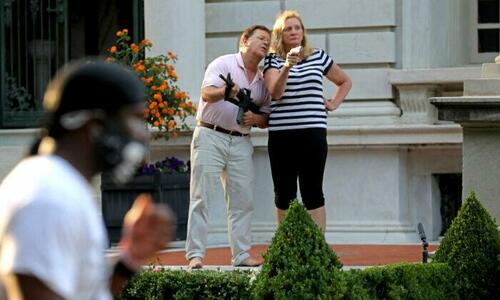 Mark McCloskey Won't Have Guns Or Money Returned, Despite Pardon, Missouri Judge Rules
Authored by Mimi Nguyen Ly via The Epoch Times (emphasis ours),
St. Louis lawyer Mark McCloskey will not have his guns or the fines he paid returned to him even though he received a governor's pardon in 2021, a Missouri judge has ruled.
Armed homeowners Mark and Patricia McCloskey, stand in front their house confronting protesters marching to St. Louis Mayor Lyda Krewson's house in the Central West End of St. Louis on June 28, 2020. (Laurie Skrivan/St. Louis Post-Dispatch via AP)
McCloskey and his wife, Patricia McCloskey, both personal injury lawyers, pleaded guilty in June 2021 to misdemeanor charges for assault and harassment, respectively, over an incident in 2020 where they wielded guns as self-defense measures at their property while watching Black Lives Matter protesters walk through their private, gated neighborhood.
They were required to pay maximum fines totaling $2,750. As part of the plea agreement, the two also surrendered the guns they wielded—a Colt AR-15 rifle and a Bryco pistol.
After their convictions, Missouri Gov. Mike Parson, on July 30, 2021, pardoned the couple and shortly following the move, McCloskey filed a lawsuit in St. Louis City Circuit Court seeking to have the guns returned and the fines paid back to him and his wife.
Circuit Judge Joan Moriarty rejected the request on Dec. 28, saying that the governor's pardon doesn't have any impact on the plea agreement the couple had agreed to.
"Plaintiff and his wife are required to follow through with their end of the bargain," she wrote, reported the St. Louis Post-Dispatch.
"While the governor's pardon does clear plaintiff's record of the conviction," she added, "his guilt remains and the terms of an agreement that predicated said guilt also remains."
McCloskey said he plans to appeal, the outlet reported.
Law Licenses Suspended
In February 2022, the Missouri Supreme Court indefinitely suspended the McCloskeys' law licenses. The court also stayed the suspension and put the two attorneys on probation for a year, which means they can still practice law, but the suspension would kick in if they violate their probation by not following the "Rules of Professional Conduct."
Read more here…
Tyler Durden
Mon, 01/02/2023 – 19:30
ZeroHedge News
Donate To Address
Donate Via Wallets
Bitcoin
Ethereum
Dogecoin
Monero
Donate Bitcoin to The Bitstream
Scan the QR code or copy the address below into your wallet to send some Bitcoin to The Bitstream
Tag/Note:-
Send Bitcoin (BTC)
Donate Ethereum to The Bitstream
Scan the QR code or copy the address below into your wallet to send some Ethereum to The Bitstream
Tag/Note:-
Send Ethereum (ETH)
Donate Dogecoin to The Bitstream
Scan the QR code or copy the address below into your wallet to send some Dogecoin to The Bitstream
Tag/Note:-
Send Dogecoin (DOGE)
Donate Monero to The Bitstream
Scan the QR code or copy the address below into your wallet to send some Monero to The Bitstream
Tag/Note:-
Send Monero (XMR)
Please Add coin wallet address in plugin settings panel