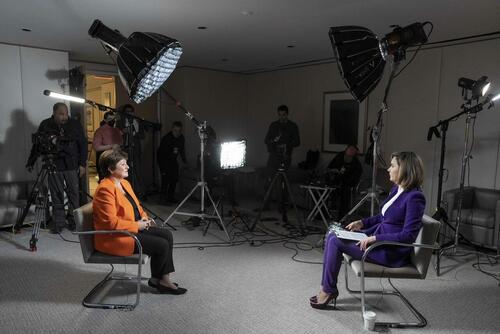 IMF Head Warns Third Of World In Recession This Year
International Monetary Fund Managing Director Kristalina Georgieva warned on CBS's 'Face the Nation' in an interview aired on Jan. 1 that a third of the global economy will be in recession this year and investors must prepare for "a tough year, tougher than the year we leave behind."
Kristalina explained recession risks are elevated "because the three big economies, US, EU, China, are all slowing down simultaneously." She added that some countries will avoid recession, though "it would feel like a recession for hundreds of millions of people."
"Our big worry is that with the economy slowing down globally, we are projecting global growth to go down to 2.7%, maybe even lower next year," she said. In 2021, global growth was 6%. It slumped to 3.2% in 2022 and continues to decline as central banks worldwide unleash the most aggressive monetary policy tightening scheme in a generation to get inflation under control. 
Georgieva added the US might avoid a recession, but the situation looks bleaker in Europe, which has been hit hard by the war in Ukraine, she said. "Half of the European Union will be in recession," she warned. 
"For the first time in 40 years, China's growth in 2022 is likely to be at or below global growth. That has never happened before. And looking into next year for three, four, five, six months, the relaxation of COVID restrictions will mean bushfire COVID cases throughout China," she said. 
Georgieva warned the world is "more shock-prone" than ever before. An energy crisis is plaguing the world — national security issues in Europe and Asia and liquidity issues in the banking system. The shocks of Covid are still not over though global supply chain congestion is receding.
Georgieva's comments are alarming for investors hoping for a soft economic landing this year. The latest figures over the weekend pointed to more weakness in the Chinese economy. 
The official purchasing managers' index for China's factory activity shrank for the third consecutive month in December despite reopening efforts. The downturn is also visible in the purchasing managers index for manufacturing worldwide, slipping into a contraction in September. 
Besides the IMF, BlackRock, the world's largest investment manager, has also warned a recession is imminent due to central banks aggressively boosting borrowing costs to tame inflation. According to a team of BlackRock strategists, their actions will ignite more market turbulence than ever before.
"Recession is foretold as central banks race to try to tame inflation. It's the opposite of past recessions," the team wrote in their 2023 Global Outlook, which said that the global economy has already exited a four-decade period of stable growth and inflation, and has now entered a period of heightened instability.
And when things get bad, BlackRock said, "Central bankers won't ride to the rescue when growth slows in this new regime, contrary to what investors have come to expect. Equity valuations don't yet reflect the damage ahead."
Tyler Durden
Tue, 01/03/2023 – 04:15
ZeroHedge News
Donate To Address
Donate Via Wallets
Bitcoin
Ethereum
Dogecoin
Monero
Donate Bitcoin to The Bitstream
Scan the QR code or copy the address below into your wallet to send some Bitcoin to The Bitstream
Tag/Note:-
Send Bitcoin (BTC)
Donate Ethereum to The Bitstream
Scan the QR code or copy the address below into your wallet to send some Ethereum to The Bitstream
Tag/Note:-
Send Ethereum (ETH)
Donate Dogecoin to The Bitstream
Scan the QR code or copy the address below into your wallet to send some Dogecoin to The Bitstream
Tag/Note:-
Send Dogecoin (DOGE)
Donate Monero to The Bitstream
Scan the QR code or copy the address below into your wallet to send some Monero to The Bitstream
Tag/Note:-
Send Monero (XMR)
Please Add coin wallet address in plugin settings panel