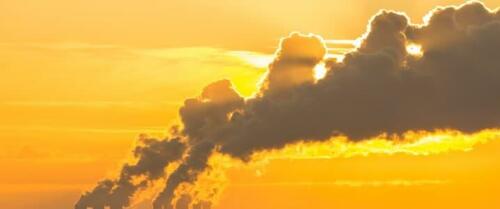 Extinction Rebellion To End Disruptive Stunts, For Now
Authored by Tsvetana Paraskova via OilPrice.com,
The UK arm of Extinction Rebellion will temporarily halt its tactics of disrupting public life and transportation with roadblocks and other high-profile protests, the environmental group said on New Year's Day.
In a statement titled "We Quit," Extinction Rebellion said that its New Year's Resolution "is to halt our tactics of public disruption. Instead, we call on everyone to help us disrupt our corrupt government."  
Extinction Rebellion and another environmental group, Just Stop Oil, have staged very public protests in recent years, including blockading key ringroads in London and heavily disrupting traffic, much to the resentment of many people who were late to work.   
In 2021, Extinction Rebellion's Money Rebellion group daubed the building of the Bank of England with fake oil, saying the stunt was "designed to expose the role of banks in the climate and ecological crisis."
In 2022, the campaign group also threw fake oil over the Barclays building in Northampton to protest against the bank's continued funding of fossil fuels and targeted the HSBC headquarters, too.  
In November 2022, Extinction Rebellion and other aligned groups took nonviolent action at thirteen sites across central London, targeting the offices of companies and organizations which have links to the fossil fuel industry.
"The groups sent a universal message that it's time to 'cut the ties' with fossil fuels," Extinction Rebellion said at the time.
Now the new campaign tactics of the UK unit of Extinction Rebellion will aim to garner more public support for their efforts to draw attention to the consequences of climate change, the group said.
"As we ring in the new year, we make a controversial resolution to temporarily shift away from public disruption as a primary tactic," Extinction Rebellion said in a statement.
"This year, we prioritise attendance over arrest and relationships over roadblocks, as we stand together and become impossible to ignore."  
Tyler Durden
Tue, 01/03/2023 – 03:30
ZeroHedge News
Donate To Address
Donate Via Wallets
Bitcoin
Ethereum
Dogecoin
Monero
Donate Bitcoin to The Bitstream
Scan the QR code or copy the address below into your wallet to send some Bitcoin to The Bitstream
Tag/Note:-
Send Bitcoin (BTC)
Donate Ethereum to The Bitstream
Scan the QR code or copy the address below into your wallet to send some Ethereum to The Bitstream
Tag/Note:-
Send Ethereum (ETH)
Donate Dogecoin to The Bitstream
Scan the QR code or copy the address below into your wallet to send some Dogecoin to The Bitstream
Tag/Note:-
Send Dogecoin (DOGE)
Donate Monero to The Bitstream
Scan the QR code or copy the address below into your wallet to send some Monero to The Bitstream
Tag/Note:-
Send Monero (XMR)
Please Add coin wallet address in plugin settings panel