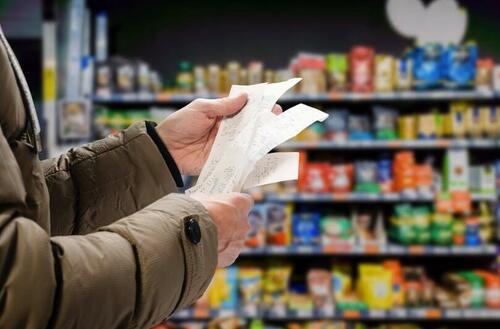 Bleak Brits Believe Cost-Of-Living Crisis Will Worsen In 2023, Poll Reveals
Authored by Thomas Brooke via Remix News,
A deeply pessimistic British electorate expects the cost of living crisis to continue to hamper the country in the calendar year to come with seven in ten Brits having little faith in the ability of Rishi Sunak's administration to improve their fortunes in 2023, latest polling reveals.
A PeoplePolling survey, commissioned by GB News, revealed as few as 1 percent of respondents were completely confident the government would effectively tackle the cost of living crisis which has seen inflation sky-rocket due to record-high energy prices.
Only 18 percent are "fairly," "somewhat" or "slightly" confident in the government's ability to ease the crisis, while 70 percent have little faith in Sunak's administration to tackle financial pressures in the year ahead.
Labour voters at the last general election are typically the least confident in the government, with 90 percent pessimistic about its competence, however, a majority of Conservative voters from 2019 (53 percent) have also lost faith in the party they elected into government.
When asked for words which spring to mind to best describe their views of the year ahead, the most widely-used terms included "difficult," "tough," "challenging," "bleak," and "worrying."
"S**t," "f****d", and "poverty" were also commonly-used phrases by respondents.
Source: Twitter, @GoodwinMJ
A majority of the public, some 60 percent of respondents, believe that 2023 will actually be worse financially for their families than the year just gone, with just 6 percent expecting it to be better, revealing the extent of the task ahead for the U.K. government to win back an evermore pessimistic electorate which is losing faith in its leaders to steady the ship.
Commenting on the polling results, academic and pollster Matthew Goodwin said U.K. Prime Minister Rishi Sunak was "heading into 202 facing some huge obstacles."
He claimed the Conservative party's recovery "has not just stalled but now appears to be going backwards.
Sir Keir Starmer and the Labour Party begin 2023 in prime position, with more than enough support for a majority at the next general election. Whatever Rishi Sunak does next, he'd better do it quick because the clock is now ticking, and he and his party are well behind."
Tyler Durden
Tue, 01/03/2023 – 06:30
ZeroHedge News
Donate To Address
Donate Via Wallets
Bitcoin
Ethereum
Dogecoin
Monero
Donate Bitcoin to The Bitstream
Scan the QR code or copy the address below into your wallet to send some Bitcoin to The Bitstream
Tag/Note:-
Send Bitcoin (BTC)
Donate Ethereum to The Bitstream
Scan the QR code or copy the address below into your wallet to send some Ethereum to The Bitstream
Tag/Note:-
Send Ethereum (ETH)
Donate Dogecoin to The Bitstream
Scan the QR code or copy the address below into your wallet to send some Dogecoin to The Bitstream
Tag/Note:-
Send Dogecoin (DOGE)
Donate Monero to The Bitstream
Scan the QR code or copy the address below into your wallet to send some Monero to The Bitstream
Tag/Note:-
Send Monero (XMR)
Please Add coin wallet address in plugin settings panel