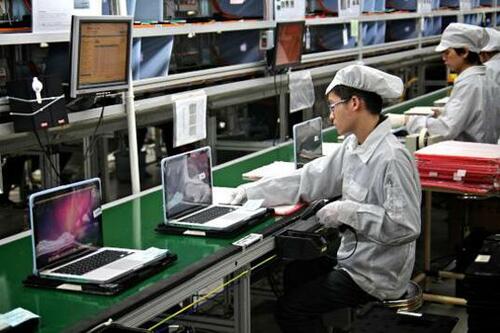 Apple Tells Suppliers To Build Fewer Components For AirPods, Watches, And MacBooks, Nikkei Asia Says
For the last few quarters, consumer appetite for electronics has weakened amid soaring borrowing costs, financial market turmoil, and global recession risks. The latest report from Nikkei Asia warns demand for Apple products continues to slide. 
"Apple has notified several suppliers to build fewer components for AirPods, the Apple Watch, and MacBooks for the first quarter, citing weakening demand," Nikkei Asia said, citing several industry insiders at component suppliers. 
"Apple has alerted us to lower orders for almost all product lines actually since the quarter ending December, partly because the demand is not that strong," one manager at an Apple supplier said.  
Demand for Apple products has been sliding fast. In early December, we reported "Apple Slides After Warning Suppliers iPhone 13 Demand Slowing" and "Top iPhone Supplier Issues Demand Warning" as signs that handset demand is in trouble. 
It should come as no secret the global smartphone industry is decelerating because consumers are pulling back on discretionary spending. After 19 months of negative real wage growth, depleted savings, and maxed-out credit cards, the bottom 90% of Americans aren't purchasing electronics like they were back in the pandemic days of free money handed out by the government.  
We outlined last year "the smartphone industry is facing increasing headwinds from many fronts – weakening demand, inflation, continued geopolitical tensions, and ongoing supply chain constraints."
And the recovery of the smartphone industry depends primarily on what type of economic landing global central banks produce. IMF head Kristalina Georgieva warned on CBS's 'Face the Nation' in an interview aired on Jan. 1 that a third of the global economy will be in recession this year. 
So perhaps demand for Apple products weakens even more as consumers struggle in what could be a very tough year ahead. 
Tyler Durden
Tue, 01/03/2023 – 07:47
ZeroHedge News
Donate To Address
Donate Via Wallets
Bitcoin
Ethereum
Dogecoin
Monero
Donate Bitcoin to The Bitstream
Scan the QR code or copy the address below into your wallet to send some Bitcoin to The Bitstream
Tag/Note:-
Send Bitcoin (BTC)
Donate Ethereum to The Bitstream
Scan the QR code or copy the address below into your wallet to send some Ethereum to The Bitstream
Tag/Note:-
Send Ethereum (ETH)
Donate Dogecoin to The Bitstream
Scan the QR code or copy the address below into your wallet to send some Dogecoin to The Bitstream
Tag/Note:-
Send Dogecoin (DOGE)
Donate Monero to The Bitstream
Scan the QR code or copy the address below into your wallet to send some Monero to The Bitstream
Tag/Note:-
Send Monero (XMR)
Please Add coin wallet address in plugin settings panel