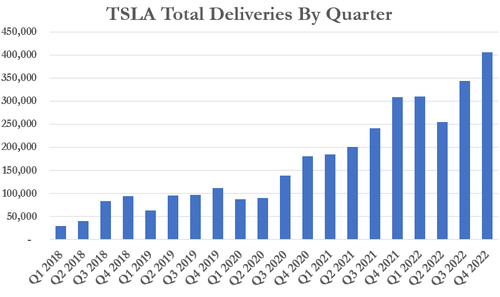 Tesla Delivers Record 405,278 Vehicles In Q4 2022, But Misses Wall Street Estimates
In a press release put out midday on Monday, Tesla announced it had delivered a record 405,278 vehicles for the Q4 2022 quarter. The number marks a record for the company, but comes in below most Wall Street estimates, even some that were revised lower. Consensus estimates for deliveries stood at 420,760 into the report, according to Bloomberg.
"In 2022, vehicle deliveries grew 40% YoY to 1.31 million," the company's press release says. This falls short of the 50% growth figure the company had once projected for the year. 
Tesla commented: "We continued to transition towards a more even regional mix of vehicle builds which again led to a further increase in cars in transit at the end of the quarter. Thank you to all of our customers, employees, suppliers, shareholders and supporters who helped us achieve a great 2022 in light of significant COVID and supply chain related challenges throughout the year."
The breakdown of vehicles included 388,131 Model 3 and Model Y deliveries, which fell short of the 405,597 estimated:
And 17,147 Model S/X deliveries, which fell short of the 18,578 estimate:
Perhaps an interesting delta to keep an eye on is the company's production versus delivery – production numbers all beat Wall Street estimates across the board, per Bloomberg:
*TESLA 4Q PRODUCTION 439,701 VEHICLES, EST. 438,840
*TESLA 4Q MODEL S/X PRODUCTION 20,613, EST. 18,611
*TESLA 4Q MODEL 3/Y PRODUCTION 419,088, EST. 411,828
$TSLA deliveries fall 8.5% vs production. Those backlog forecasts comped to pandemic demand will not be good for 1H inventories. 🚩
— Linsanity Capital (@JLinWins) January 2, 2023
Despite the delivery number missing most consensus estimates, we noted days ago that Morgan Stanley's Adam Jonas had actually revised his Q4 delivery estimate to as low as 399,000 vehicles. 
Jonas seems to think headwinds out of China, which have been cited as part of the reason for Tesla's recent share price plunge, may continue: "According to Morgan Stanley lead China auto analyst Tim Hsiao, Nio just announced a cut to its 4Q delivery target given Covid-related disruption to production and registrations. Despite sequential volume improvement MTD, the uptick of auto/NEV sales has come in weaker than expected given a surge in Covid cases following reopening."
Jonas also continues to believe that Tesla is well suited to face macro headwinds heading into 2023. He wrote last week:
"On a relative basis, the reiteration of our OW rating must be seen vs. more challenged EV-related peers such as EW-rated Fisker (FSR), UW-rated Lucid (LCID),and UW-rated QuantumScape (QS). Between a worsening macro backdrop, record high unafforability,and increasing competition, there are hurdles to overcome. Yet we do believe that in the face of all these pressures, TSLA will widen its lead in the EV race, as it leverages its cost and scale advantages to further itself from the competition."
Tesla has also started 2023 by continuing to offer 10,000 yuan incentives in China in a bid to help boost sales, we noted this weekend. The company may also see another subsidy shot-in-the-arm in the U.S. heading into the new year. 
Days ago we asked whether or not the Biden administration could work as a tailwind heading into 2023: "At the start of the new year, buyers will once again enjoy a tax credit when they purchase a Tesla vehicle. The original 2010 EV tax credit had a quota of 400K units. For Tesla, the tax credits fully disappeared in early 2020 when Tesla reached that unit sales quota. But thanks to the Inflation Reduction Act (IRA) that Congress passed earlier this year and Biden signed [last week], the tax credits are back in 2023."
We continued:
"In the IRA there is a $7,500 tax credit for buyers of EVs, including TSLA and GM, who lost their previous tax credits. However, there are other strict limits on which brands would be eligible for the full credit, based on the selling price and where the cars and components are made. Unless the car is made in North America (NAFTA), the buyer is not eligible for the full tax credit. In addition, at least 50% of the battery parts will need to be made in North America. Lastly, a minimum of 40% of minerals used in the batteries must be sourced from the US or countries with free trade agreements with the US. So even buyers of GM and Tesla cars might only be eligible for half ($3,750) of the tax credit because their batteries and minerals come from a "foreign entity of concern" (China/Russia)."
To finish the year, Tesla has traded the furthest below its 200DMA (61% lower) in the company's history – whether or not this is a sign of continued bearishness or a setup for a whipsaw higher remains to be seen…
Shares initially fell, before bouncing, in Europe where equity futures trading is open, versus the U.S. where markets are closed for the New Year's holiday.
Tyler Durden
Mon, 01/02/2023 – 13:10
ZeroHedge News
Donate To Address
Donate Via Wallets
Bitcoin
Ethereum
Dogecoin
Monero
Donate Bitcoin to The Bitstream
Scan the QR code or copy the address below into your wallet to send some Bitcoin to The Bitstream
Tag/Note:-
Send Bitcoin (BTC)
Donate Ethereum to The Bitstream
Scan the QR code or copy the address below into your wallet to send some Ethereum to The Bitstream
Tag/Note:-
Send Ethereum (ETH)
Donate Dogecoin to The Bitstream
Scan the QR code or copy the address below into your wallet to send some Dogecoin to The Bitstream
Tag/Note:-
Send Dogecoin (DOGE)
Donate Monero to The Bitstream
Scan the QR code or copy the address below into your wallet to send some Monero to The Bitstream
Tag/Note:-
Send Monero (XMR)
Please Add coin wallet address in plugin settings panel