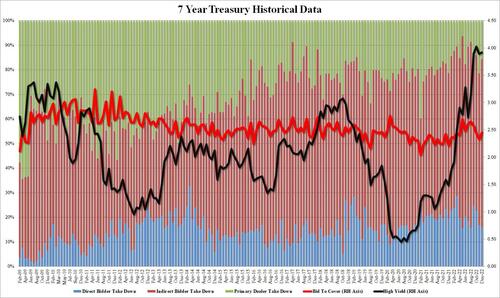 7-Year Tails Despite Strong Foreign Demand In Year's Final Treasury Auction
And so, after a strong 2Y auction on Tuesday and a medicore, tailing 5Y sale yesterday, we finally came to the last bond auction of 2022 when just after 1pm ET, the Treasury sold $35 billion in 7 Year paper in what can at best be described as a sloppy affair.
The high yield of 3.921% was just above last month's 3.890%, and tailed then when issued 3.913 by 0.8bps. This was the third consecutive tail if far smaller than last month's 2.7bps gaping tail.
The bid-to-cover of 2.454 was higher than both October and November, but below the six-auction average of 2.512.
The internals were stronger, with Indirects taking down 68.1%, the highest since August and well above the 66.0% recent average; and with Directs awarded 16.2%, or slightly below the recent average of 19.8%, Dealers were left holding 15.8%, above the average of 14.2%.
Overall, a subpar 7Y auction, although if one ignores the tail – which can be ascribed to the sharp drop in yields intraday and the lack of concession – the auction wasn't that bad which probably explains the lack of any notable market reaction to the bond sale.
Tyler Durden
Thu, 12/29/2022 – 13:16
ZeroHedge News
Donate To Address
Donate Via Wallets
Bitcoin
Ethereum
Dogecoin
Monero
Donate Bitcoin to The Bitstream
Scan the QR code or copy the address below into your wallet to send some Bitcoin to The Bitstream
Tag/Note:-
Send Bitcoin (BTC)
Donate Ethereum to The Bitstream
Scan the QR code or copy the address below into your wallet to send some Ethereum to The Bitstream
Tag/Note:-
Send Ethereum (ETH)
Donate Dogecoin to The Bitstream
Scan the QR code or copy the address below into your wallet to send some Dogecoin to The Bitstream
Tag/Note:-
Send Dogecoin (DOGE)
Donate Monero to The Bitstream
Scan the QR code or copy the address below into your wallet to send some Monero to The Bitstream
Tag/Note:-
Send Monero (XMR)
Please Add coin wallet address in plugin settings panel