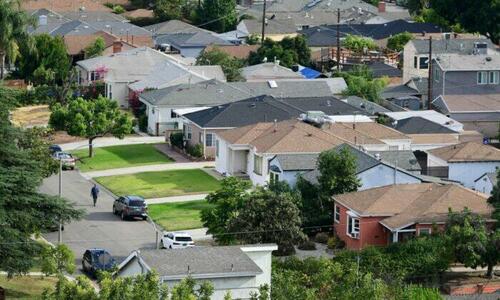 Los Angeles County Follows City, Extends COVID-Era Eviction Moratorium
Authored by Jill McLaughlin via The Epoch Times,
Los Angeles officials have extended COVID-era eviction moratoriums in the city and county until the end of January, continuing some of the nation's longest-lasting policies that allow low-income residents to delay paying rent.
Following the city's footsteps, the county Board of Supervisors approved the extension Dec. 20. The board is also considering another six-month extension next year, citing fears of an "eviction tsunami" and increased homelessness.
Extending the moratorium until the end of June would be "the right thing to do," County Supervisor Hilda Solis said following the Dec. 20 board meeting.
"It is unacceptable to let anyone fall into homelessness during a pandemic because they can't afford to pay rent," Solis wrote on Twitter. "We must do all we can to stabilize our families and prevent homelessness."
Los Angeles County supervisor Hilda Solis hosted a press conference Nov. 22 against hate crimes and in support of immigrant communities (Courtesy of Hilda Solis)
One apartment owners' group that sued over eviction restrictions last year expressed disappointment with the extensions.
"After nearly three years of challenging rent collections and prohibitions on rent increases during an unprecedented inflationary period in our history, it is deplorable that Los Angeles County would seek to twist the knife blade even more into the hearts and souls of rental housing providers," Daniel Yukelson, executive director of the Apartment Association of Greater Los Angeles, told The Epoch Times in an email.
He said some renters have taken advantage of the moratoriums and restrictions by not paying rent and using the money to travel, buy new cars, and dine out whereas landlords "have suffered greatly under the financial strain."
In October, a district court judge blocked the county's eviction moratorium, requiring officials to end or fix the policy to include language that makes clear renters can prove they have been impacted by COVID for each month they missed paying rent. The judge gave the county a deadline of Dec. 1.
In the ruling, the judge agreed with the Apartment Association of Greater Los Angeles and the Apartment Owners Association of California, which claimed in a lawsuit that the moratorium was "unconstitutionally vague."
The policy was changed but the landlord groups don't agree that the changes adequately or legally corrected the ordinance, according to Yukelson, and they plan to go back to court.
"Our ruling will open the door for property owners harmed by the County's unconstitutional ordinance to recover damages from the County under what could likely be class action litigation," he added.
The eviction moratorium went into effect in March 2020 and allows lower-income residents financially affected by COVID-19 to stop paying rent until the end of January. These residents can't be evicted for nuisance violations or unauthorized occupants or pets and are exempt from no-fault evictions—which are normally allowed by law when landlords or their immediate family members need to move in.
Renters and housing advocates attend a protest to cancel rent and avoid evictions in front of the courthouse amid the COVID-19 in Los Angeles on Aug. 21, 2020. (Valerie Macon/AFP via Getty Images)
The moratorium doesn't cancel the rental payment. Residents are still expected to replay the total amount owed. Landlords can pursue court action for unpaid rent, but many claim the moratorium has allowed some residents to stop paying rent for nearly three years.
Los Angeles City Council voted Dec. 7 to end its eviction ban Jan. 31. Landlords can resume evicting tenants for not paying rent and other reasons starting Feb. 1.
The city's moratorium also prohibited—until February 2024—property owners from raising rents on the more than 650,000 rent-controlled units in the city.
A report released Dec. 14 by the Economic Roundtable, a Los Angeles-based nonprofit research organization, claimed the eviction moratoriums helped slow the growth of homelessness by 43 percent in the county and 41 percent in California.
Los Angeles Homeless Services Authority estimated this year nearly 70,000 remain homeless countywide and almost 42,000 citywide.
Tyler Durden
Sun, 12/25/2022 – 19:45
ZeroHedge News
Donate To Address
Donate Via Wallets
Bitcoin
Ethereum
Dogecoin
Monero
Donate Bitcoin to The Bitstream
Scan the QR code or copy the address below into your wallet to send some Bitcoin to The Bitstream
Tag/Note:-
Send Bitcoin (BTC)
Donate Ethereum to The Bitstream
Scan the QR code or copy the address below into your wallet to send some Ethereum to The Bitstream
Tag/Note:-
Send Ethereum (ETH)
Donate Dogecoin to The Bitstream
Scan the QR code or copy the address below into your wallet to send some Dogecoin to The Bitstream
Tag/Note:-
Send Dogecoin (DOGE)
Donate Monero to The Bitstream
Scan the QR code or copy the address below into your wallet to send some Monero to The Bitstream
Tag/Note:-
Send Monero (XMR)
Please Add coin wallet address in plugin settings panel