Migrant Arrests Top 2 Million For The First Time Ever After Kamala Declares 'Border Secure'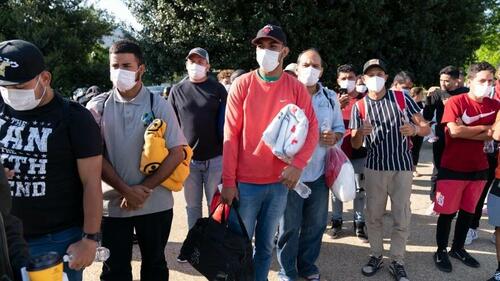 Migrant Arrests Top 2 Million For The First Time Ever After Kamala Declares 'Border Secure'
Just one week after VP Kamala Harris declared that the southern US border is "secure," the number of illegal migrants arrested topped 2 million in just 11 months – an all-time record.
First, the woman who's one heartbeat away from the Oval Office.
NBC'S CHUCK TODD: "[The US] will have 2 million people cross this border for the first time ever."
VP HARRIS: "We have a secure border."
— Breaking911 (@Breaking911) September 11, 2022
The adults are back in charge?
According to the latest figures from US Customs and Border Protection, 203,598 migrants were detained in August, putting the total number of illegals arrested at 2.3 million for the 2022 fiscal year which ends Sept. 30.
And those are just the ones who were caught.
The historic migration wave this year has been driven by soaring numbers of border-crossers from outside Mexico and Central America, the two largest traditional sources of illegal entries. Migrants from Venezuela, Nicaragua and Cuba accounted for more than one-third of those taken into custody along the southern border last month, according to Customs and Border Protection, a 175 percent increase over August 2021. -WaPo
"Failing communist regimes in Venezuela, Nicaragua, and Cuba are driving a new wave of migration across the Western Hemisphere, including the recent increase in encounters at the southwest U.S. border," said CBP Commissioner Chris Magnus, in a politically charged statement. "Those fleeing repressive regimes pose significant challenges for processing and removal."
If only some type of barrier, or 'wall' could be erected to stop massive illegal inflows of migrants?
Tyler Durden
Mon, 09/19/2022 – 19:20
ZeroHedge News
Bitcoin
Ethereum
Dogecoin
Monero
Donate Bitcoin to The Bitstream
Scan the QR code or copy the address below into your wallet to send some Bitcoin to The Bitstream
Tag/Note:-
Send Bitcoin (BTC)
Donate Ethereum to The Bitstream
Scan the QR code or copy the address below into your wallet to send some Ethereum to The Bitstream
Tag/Note:-
Send Ethereum (ETH)
Donate Dogecoin to The Bitstream
Scan the QR code or copy the address below into your wallet to send some Dogecoin to The Bitstream
Tag/Note:-
Send Dogecoin (DOGE)
Donate Monero to The Bitstream
Scan the QR code or copy the address below into your wallet to send some Monero to The Bitstream
Tag/Note:-
Send Monero (XMR)
About Post Author